UT's partnerships create opportunities for students
---
These days, you're likely to see The University of Toledo in a lot of great places — the Joe Louis Arena, Comerica Park, Ford Field, Quicken Loans Arena, to name a few.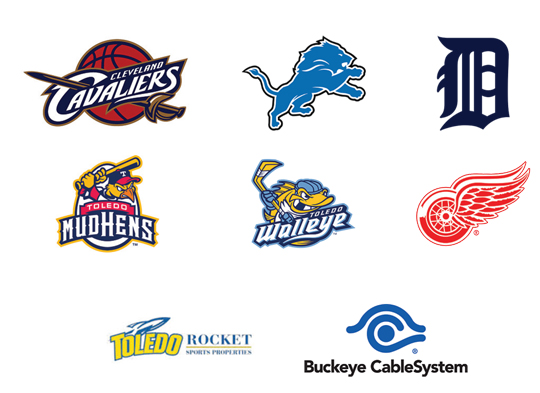 Through the many partnerships UT is building, the University is getting plenty of exposure to potential students. But more than that, these partnerships with sports teams and businesses offer invaluable experiences for students who are taking classes.
"The partnerships that we're building are a great way to display the UT brand and introduce us to potential students," said Lawrence J. Burns, UT vice president for external affairs. "But they also provide opportunities for our current students to grow both academically and professionally."
UT's relationships with the Detroit Lions, Detroit Red Wings, Detroit Tigers, Toledo Mud Hens, Toledo Walleye, Rocket Sports Properties and Buckeye CableSystem already have proven beneficial to students, and the new partnership with the Cleveland Cavaliers likely will prove the same.
"A lot of students desire to be working in the sports industry in some fashion — be it announcing, writing, camera work, or whatever else. It is always a positive to have experience on your side," said Andrew Kurtz, a UT journalism student who has an internship with the Detroit Lions. "This position has provided that [experience] while growing my network to assist me in my future career search."
The Lions also have hosted a Twitter chat with UT students called #AskALion, where students could tweet the team and ask questions.
UT students also can intern with the Buckeye Cable Sports Network as part of the production crew or sometimes in the information technology department.
"People that are interested in television production have 100 percent hands-on from setting up on location, to running a camera, to producing and directing," said Steve Piller, vice president of advertising and local stations at Buckeye. "We could not create BCSN without student help."
One UT student, Aliyah Coates, had the chance to interview and job shadow Piet Van Zant, the Red Wings' head athletic trainer.
"UT students have the opportunity to job shadow and participate in Q&A sessions, resulting in a better understanding of the fast-paced sports and entertainment industry," said Craig Turnbull, senior vice president of marketing and communications for the Red Wings.
Another way UT takes advantage of these partnerships is by hosting a sports marketing panel each year with professionals from the Mud Hens, Walleye, Red Wings, Tigers, Lions and Rocket Sports Properties. Panelists talk about their careers and some of the day-to-day activities at their jobs, and students get the chance to ask questions.
"These partnerships allow us to provide one-of-a-kind opportunities for our students," Burns said. "Not many other places can offer that."