Tailgate party, football game to benefit cancer survivors
---
The Friday after Thanksgiving is usually about shopping. This year, it is about surviving.
The University of Toledo Center for Health and Successful Living is organizing a tailgate party for cancer survivors and their families before the Rockets' football game versus Western Michigan Friday, Nov. 27.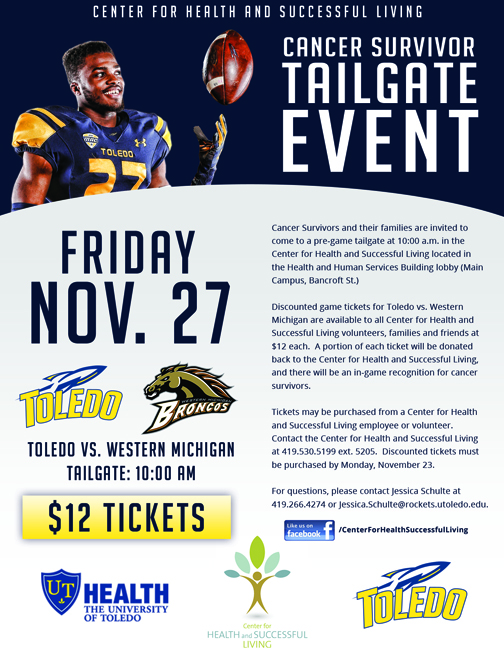 The free tailgate party will start at 10 a.m. in parking lot 1S on the east side of the Health and Human Services Building before the noon kickoff in the Glass Bowl.
The Center for Health and Successful Living also is selling discounted game tickets that anyone can purchase for $12 with $2 going toward the center for screening and outreach purposes. Use the code "CHSL" when buying the tickets at http://utrockets.com. Reservations for the tailgate party are appreciated.
"We wanted to thank our survivors for coming to our programs, and we wanted to connect our survivors to each other," said Dr. Amy Thompson, co-director of the center and UT health education professor. "We want to celebrate their survivorship journey and create some awareness about the center."
Since its inception two years ago, the center has educated more than 5,000 people and screened more than 500 women for breast cancer.
The Center for Health and Successful Living, located on the first floor of the Health and Human Services Building on Main Campus, offers a variety of low-cost health promotion and disease prevention services, including health coaching, health screenings, case management, customized exercise programs and support groups.
"We are an arm of the Eleanor N. Dana Cancer Center; we are Dana's survivorship program," Thompson said. "We do free screenings, mobile units and education in the community. We also do patient navigation. People will call us and say, 'I need help finding a physician.' We also help people who can't afford health services.
"We have known people who have walked 5 miles to get a free mammogram," Thompson said. "The more we work with people in the community, the more we see the need. Our students were doing health coaching at one point, and we were finding that people couldn't even identify a vegetable."
While the center is open to anyone, Thompson said specific attention is paid to minorities, the LGBT community and those suffering from mental illness.
"We try to serve the mentally ill because they live 25 years less on average," she said. "They don't get screened because they are focused on their mental health instead of getting a colonoscopy or a mammogram. We try to provide services for everyone, but we try to focus on people who are underserved."
Thompson started the center with Dr. Tim Jordan, UT health education professor, because her mom, Gladys, had breast cancer.
"My mom had to go to so many different places to get support for her cancer. I thought, 'Wouldn't it be great to have it all in once place?'" Thompson said.
Jordan said a large part of the center's mission is to recruit and retain high-quality students to UT while collaborating with other academic departments.
"We want to create more opportunities for students to gain more skills in their majors," he said. "We have students in occupational therapy, social work and physical therapy, among other disciplines, who intern and volunteer in the center. We have even had international students specifically come to UT to intern in our center."
As the center evolves, it has added many social events to its calendar. For instance, the Pink Sneakers walking group meets at 6 p.m. on Mondays, Wednesday and Fridays. The center also hosts a Survivorship Book Club, which is meeting Monday, Nov. 30, at 7 p.m.
"A lot of these programs are things that people have asked us to do," Thompson said.
"Last year, we had a Christmas party for survivors at my home. Everyone had to say one thing he or she was grateful for this year. Someone said, 'I am grateful that I had cancer because I would have never met all of you at the center without this diagnosis.'"
Thompson and Jordan are working to secure more funding for the center, which runs on $10,000 a year, to be able to offer additional services. Thompson and Jordan run the center in their free time.
"This is a labor of love, but if we had more money, we could do more for the community," Thompson said.
To make a donation to the Center for Health and Successful Living, contact Malory Sykes, major gifts officer in the Office of Development, at malory.sykes@utoledo.edu or 419.530.5428.