Trustee/professor emeritus addresses loss, pain and life in new book
---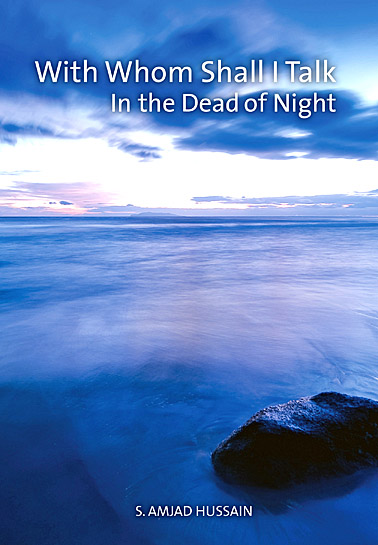 "Now who would have ever thought of writing a letter to a dead person?"
So begins With Whom Shall I Talk in the Dead of Night, the recently released book by Dr. S. Amjad Hussain, a chronicle of one man's struggle with pain and sorrow following the loss of his wife.
The book is comprised of a collection of letters that Hussain wrote to his wife, Dottie, after her passing in 2006 as a method of healing and comfort to work through the struggles of losing the most important person in his life.
With some of his most intimate thoughts and emotions written out, Hussain had never intended for the collection of letters to be to be published. It wasn't until he shared the letters with a few of his and his wife's closest friends that the idea of publication emerged as a possible way to help others experiencing similar hardships.
"There are many different ways that one may work through hardships," Hussain said. "For me as a writer, it was the letters. It might be something entirely different for someone else. It's about finding something that will bring you comfort and healing, but there are no shortcuts or easy ways to do it."
New difficulties and detailed memories associated with daily activities such as watching television, cooking and cleaning are among the many topics addressed in the letters that Hussain wrote. Over the course of the book, he learns to operate individually in a world that was for a long time a great partnership.
Readers of the book mustn't limit themselves to trying to understand his own pain while reading the letters, Hussain said. Instead, he believes that while some might read the book and use it to find comfort and peace in the midst of grieving as he did, others could see it as a memoir of one man and his personal struggles through an extremely difficult situation.
His hope is to inspire people to find their own best way to overcome pain in life and encourage to persevere those who are experiencing hard situations.
For Hussain, this perseverance came with writing and continual support from many friends and family members, including his three children, Tasha, Qarie and Monie, all of whom are extremely close and have supported each other and their father.
Hussain, who was appointed to the UT Board of Trustees in 2007, is professor emeritus of thoracic cardiovascular surgery at the UT College of Medicine and Life Sciences, where he has been a volunteer faculty member for 33 years.
He also is a columnist for Toledo's daily newspaper The Blade and a number of other publications.
A prolific writer, Hussain has addressed many diverse subjects, including religion, culture, history and geopolitical issues in the Middle East and South Asia. This is his 14th book.
With Whom Shall I Talk in the Dead of Night is published by The University of Toledo Press. For more information or to order a copy, visit utoledopress.com/With_Whom.html.