Toledo to Play in National Invitational Volleyball Championship
---
The University of Toledo women's volleyball program accepted an invitation to play in the Women's National Invitational Volleyball Championship (NIVC) on Sunday night. The Rockets will face Indiana State on Thursday, Dec. 2, at 5 p.m. in first-round action at Valparaiso University.
The 2021 NIVC will be Toledo's first postseason tournament action in program history. The Rockets have posted a record of 19-12 this season, tied for the second-most wins in school history, while earning the No. 5 seed in the 2021 MAC Tournament.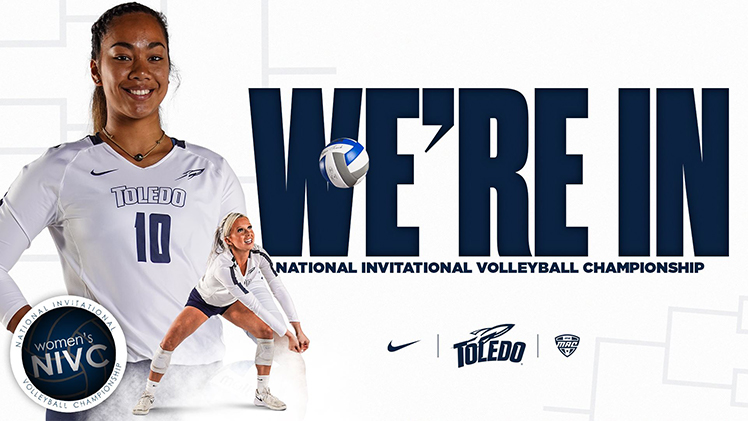 "I am so excited for this team to be the one that represents the Rockets for the first time in a postseason tournament," head coach Jason Oliver said. "Our volleyball team had been working hard to achieve something like this and to accomplish it with this group really validates the effort put in by everyone. We will get to work and compete at a high level to make all the Rocket volleyball fans proud."
The winner of the Toledo vs. Indiana State matchup will face the winner of the Valparaiso vs. Butler match on Friday, Dec. 3, at 7 p.m. The third round of the NIVC will take place Dec. 6-8, followed by the semifinals on Dec. 8-11 and the championship match on either Dec. 13 or 14.
Indiana State owns a record of 18-12 with a 9-9 mark in Missouri Valley Conference play. The Sycamores won a game in the MVC Tournament before falling to No. 2 seed Illinois State in the semis. Senior middle blocker Madeline Williams earned second-team all-conference honors earlier this month.
For more information on the NIVC, fans can visit their Tournament Central page.