Students to sell artwork at holiday sale Dec. 6
---
Whether it's holiday gifts or decorations for your own home, the student holiday sale will have what you're looking for.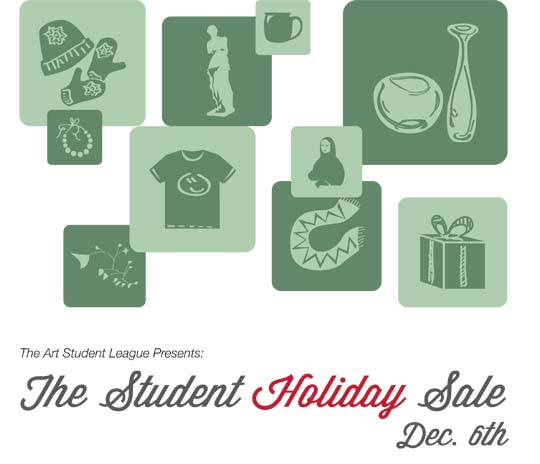 The University of Toledo's Art Student League will host the annual student holiday sale Saturday, Dec. 6, from 5 to 10 p.m. on the sixth and seventh floors of the Secor Building, a Toledo art gallery located at 425 Jefferson Ave.
"It's a chance for the Art Department to get its name out there in the community and for emerging artists to get their own names out there and sell things," said Nikka Geiermann, art student and coordinator of the sale. "It offers experience for what selling things is like in the real world."
Student art of all kinds — ceramics, crafts, knitwear, paintings and more — will be for sale. Geiermann said that prices will vary depending on the type of art.
"We wanted it to be as open as possible — people who do fun, crafty things to fine art," Geiermann said. "So even if they're a 3D art major, if they do knitting on the side and want to make mittens, they can do that. It gives a variety for people."
The Art Student League is a UT organization that works to enhance the experience for art majors and provide an outlet for all interested in art, both in the major and not.
"This is a good way to show our presence in the community," Geiermann said. "We're in college and making opportunities for ourselves and giving people opportunities to buy great gifts that are local, handmade and show support for the college community."
For more information, contact Geiermann at nikka.geiermann@rockets.utoledo.edu.