'A Cup of Prevention' emphasizes consent
December 4, 2018 |
UToday
By Anna Brogan-Knight
---
Students fueling up on caffeine in anticipation of finals week at Starbucks in the Thompson Student Union and Carlson Library, as well as Java City in Rocket Hall, will be encouraged to learn more about Title IX/sexual misconduct and The University of Toledo's commitment to a safe campus community.
Through the "A Cup of Prevention" campaign led by the Title IX Office, stickers will be on 3,000 coffee sleeves throughout the week with a snap code leading to a page with information about Title IX and education opportunities to reduce sexual misconduct.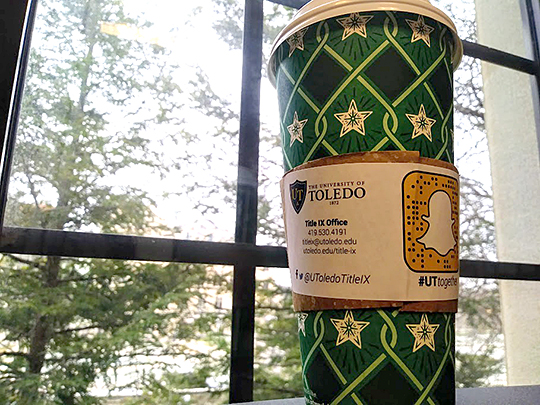 "We want students to better understand what Title IX/sexual misconduct is and what resources are available to them on campus," said Lindsay Tuttle, sexual misconduct education coordinator. "The Title IX Office offers Bringing in the Bystander training throughout the year to empower students, faculty and staff to identify warning signs and learn strategies that build a community of respect.
"Part of that training is understanding consent. It is important to reinforce that true consent is mutual, willing, clearly communicated, and specific," Tuttle said. "This conversation on consent is part of our efforts to encourage a culture that is comfortable talking about sexual assault so that we can better address and prevent it."
The "Cup of Prevention" campaign is part of a series of education and outreach activities highlighting sexual misconduct prevention and the resources available to the campus community.
UT's Title IX Office ensures compliance with federal law and works to raise awareness of sexual misconduct prevention. The Title IX Office responds to and may investigate reports of sexual misconduct, implements interim measures when necessary, and works to remedy the effects of sexual misconduct.
For more information about the Title IX Office and the sexual misconduct education program, call 419.530.4191, stop by the office in Snyder Memorial Building Room 1120, or visit the Title IX Office website.