Still time to make a difference through employee charitable campaign
December 8, 2014 |
UToday
By Lindsay Mahaney
---
With donations nearing $85,000, The University of Toledo Community Charitable Campaign is hoping employees will help UT reach its goal of $125,000.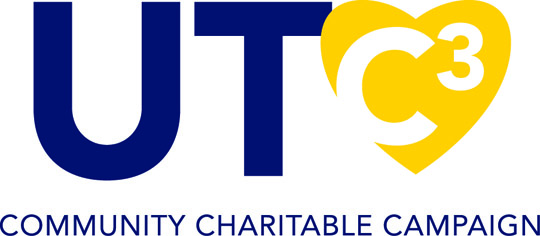 The University's annual charity drive, better known as UTC3, is offered in conjunction with local organizations United Way of Greater Toledo, Community Health Charities of Ohio, Earth Share Ohio and Northwest Ohio Community Shares. The campaign will officially end Wednesday, Dec. 31, but will wrap up with a celebration breakfast Thursday, Dec. 11, leaving just a few days for UT employees to donate to be invited to attend the breakfast.
With a goal of $125,000, UTC3 is working to raise money for more than 200 local, regional and national organizations. As of Dec. 3, the campaign has raised $7,500 more than this time last year. And while more than 300 people have donated, that's only about 6 percent of employees, according to Donna Braswell, business services officer in the Department of Biological Sciences and a UTC3 representative.
"Participation is important because once people start to give, they realize how good it feels," Braswell said. "Even if it's a small, small, small gift — to give and be part of something bigger than you, that's what I think is important."
Donors who give will receive a gift for their contributions of:
• $25 — UT tote bag;
• $100 — UT insulated tote and insulated water bottle;
• $250 — jolt charger;
• $500 — UT radio frequency identification (RFID) document holder; or
• $750 — both the RFID holder and the jolt charger.
An email providing information linking donors to the online pledging system and sharing stories of those helped by these organizations will be sent to UT employees this week.
Additional emails will follow throughout December to allow donors who've not yet made pledges a chance to give to the campaign.
Donations also can be turned in to the following campaign representatives:
• Donna Braswell, Wolfe Hall Room 1235L, Mail Stop 601;
• Vicki Riddick, Mail Stop 405.
For more information or to make an online donation, visit https://uwgt.upicsolutions.org/uwgt/crm/Home.jsp.