Submissions Sought for 2020 Health Science Campus Artist Showcase
---
Mulford Library is seeking submissions for its 15th Annual Health Science Campus Artist Showcase.
The deadline to apply for consideration to be included in the exhibition is Friday, Jan. 10.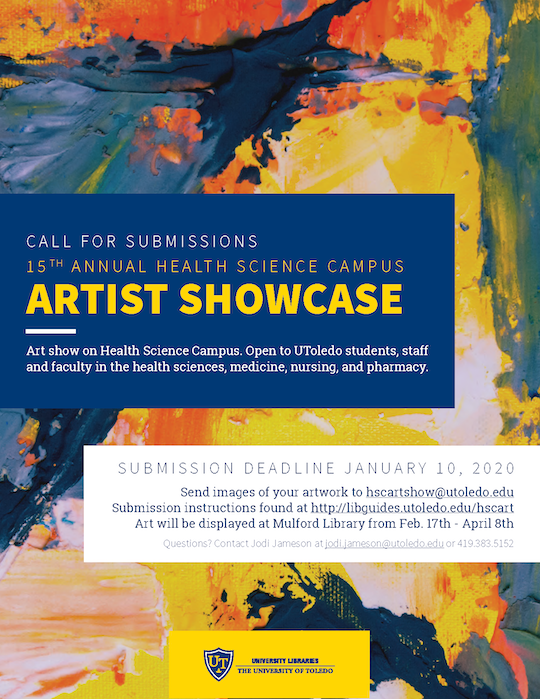 The library is accepting submissions from UToledo faculty, staff and students in the health sciences — nursing, medicine, pharmacy and the health professions — as well as hospital employees.
To be considered for the show, digital images of artwork can be sent to hscartshow@utoledo.edu, along with a submission form that can be found with guidelines on the Health Science Campus Artist Showcase website.
In the past, the showcase has featured artwork in a variety of media, including photography, painting, drawing, sculpture, jewelry, quilting, multimedia, graphics, wood carving and more.
Artists will be notified by email if their work is accepted into the show by Wednesday, Jan. 15.
The showcase will be on display from Feb. 17 through April 8 on the fourth floor of Mulford Library.
Questions about the exhibit can be directed to Jodi Jameson, assistant professor and nursing librarian at Mulford Library, who is a member of the artist showcase committee, at 419.383.5152 or jodi.jameson@utoledo.edu.