UToledo Increases Efforts to Reduce Waste, Increase Recycling
December 11, 2019 |
UToday
By Christine Wasserman
---
The University of Toledo is adopting changes to its recycling practices to reduce waste and continue being good stewards of the environment.
"Like other large organizations and communities across the country, we're shifting our focus from just recycling to — first and foremost — reducing the amount of waste we produce," said Jason Toth, senior associate vice president for administration. "Continuing to recycle exactly as we've been doing for the past two or three decades is simply no longer sustainable."
"Recycling costs continue to increase due, in part, to the amount of labor it takes to sort and disburse these materials to appropriate places," said Michael Green, director of energy management for Facilities and Construction. "Therefore, we're asking everyone to participate in renewed efforts to ensure we're effectively eliminating waste, and then to also recycle items properly.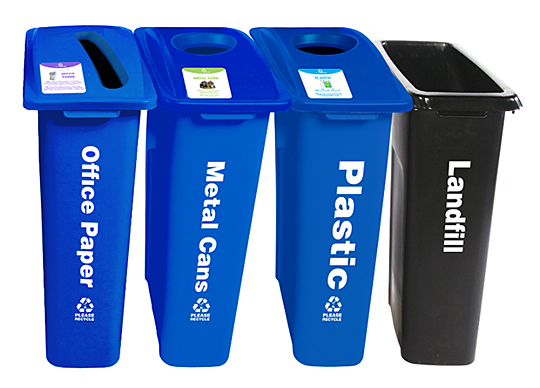 "Many employees and students recycle items in the proper blue bins, but then just one person inappropriately tosses in a pop can that's half full, for instance, the contents of that entire bin ends up in the landfill due to cross-contamination," Green explained. "It's too costly to manually sort through hundreds of bins to ensure every item has been recycled appropriately."
To be more environmentally responsible, UToledo is modifying its approach to recycling and urges all faculty, staff and students to assist as follows:
Recycling stations, which promote streamlined, common area recycling, have been expanded across campuses and are in all University facilities, including residence halls, office and patient care areas. Each station contains four bins — mixed office paper, metal cans (e.g. soda cans), plastic (e.g. water bottles) and landfill (trash). Please read the label atop each bin to ensure you are tossing items into the right bin to eliminate cross-contamination of recycled items.
Blue bin office recycling containers were removed from individual offices over the summer to promote increased use of the recycling stations in order to reduce labor and other associated costs. Please continue to recycle by using these common area recycling stations.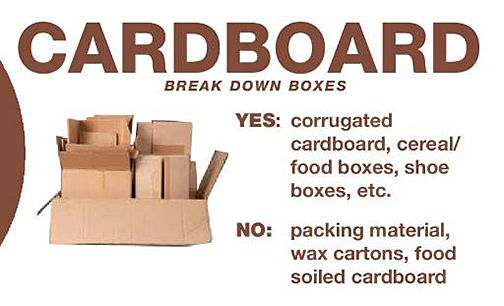 Cardboard recycling – Employees should break down small- and medium-sized boxes and place the flattened cardboard at a recycling station. Be sure to place the flattened cardboard behind the bins so foot traffic is not impeded. For large and oversized boxes, a maintenance/custodial work order should be submitted so Environmental Services may pick up this flattened cardboard from your work area.
"Before you recycle, we all should focus on reducing waste first," Green noted. "Ways to do that include using your own beverage container instead of buying beverages in disposable cups, avoiding the use of Styrofoam containers for takeout food, and buying used or recyclable products for your residence hall or home.
"If everyone on our campuses used their own washable coffee cup every day, the University could reduce our annual waste by thousands of pounds," Green said. "And that's for only one small item that thousands of us use daily, and many of us use multiple times a day. Just imagine what we could do for the planet if we all would eliminate using other disposable products, too!"