Head football coach signs contract extension through 2023
---
The University of Toledo and Head Football Coach Jason Candle have agreed to a contract extension through the 2023 season, UT Vice President and Athletic Director Mike O'Brien announced today.
Candle, who was named the Mid-American Conference Coach of the Year in 2017, has guided the Rockets to an 11-2 record and a MAC Championship this season. Toledo won the MAC West Division title, its first outright division crown since 1998, with a 7-1 league record. The Rockets went on to defeat Akron, 45-28, in the MAC Championship Game in Detroit Dec. 2. It was Toledo's first MAC Championship title since 2004.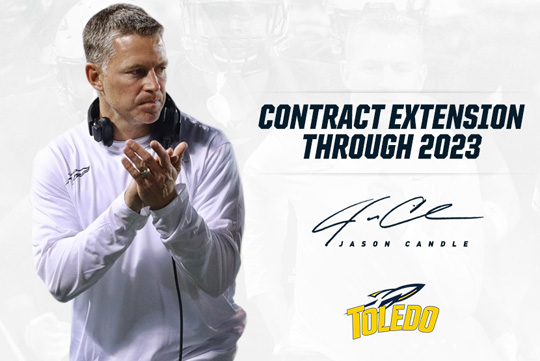 UT will play Sun Belt Co-Champion Appalachian State Saturday, Dec. 23, in the Dollar General Bowl in Mobile, Ala.
"We are very pleased to extend Jason Candle's contract through the 2023 season," O'Brien said. "Jason is unquestionably one of the finest football coaches in the country. He is a tremendous leader and teacher of young men. His focus on leading us to a MAC Championship never wavered, and he has a strong determination to elevate our football program to even greater heights. We look forward to his leadership for many years to come."
"I'm very appreciative of the support and confidence that President [Sharon L.] Gaber and Mike O'Brien have shown in my staff and me," Candle said. "The success of our program is the result of the unified effort of our players, coaches, staff and everyone in Rocket Nation who supports us. To be a MAC Champion is a tremendous accomplishment of which we can all be proud. At the same time, we are even more focused on our mission of continuing to build on our program's tradition of success. I'm proud to be a Rocket and proud to represent this great University and great city."
Candle's career record at Toledo is 21-6. He took over the head coaching position at the end of the 2015 regular season, leading UT to a 32-17 victory over No. 24 Temple in the Marmot Boca Raton Bowl.
In his first full season as Toledo's head coach in 2016, he led his team to a 9-4 record and an appearance in the Raycom Media Camellia Bowl.
Before assuming the head coaching position, Candle had been an assistant at Toledo for seven years, the last four as the program's offensive coordinator.
Candle, a native of Salem, Ohio, began his coaching career at his alma mater, Mount Union, in 2003. He was a part of four NCAA Division III national championships with the Purple Raiders, two as a player and two as an assistant coach. He joined Toledo in 2009 as a receivers coach, and moved to the offensive coordinator in 2012.
Under Candle's guidance as offensive coordinator, the Rocket offense was prolific. In 2014, UT led the MAC in just about every major offensive category, including scoring (36.6), total offense (490.5) and rushing offense (256.4), en route to a 9-4 record and a victory over Arkansas State in the GoDaddy Bowl. In 2015, the Rockets were 10-2 and ranked third in the MAC in scoring (35.0) and total offense (460.9).
Candle was named one of the top recruiters in the nation by Rivals in 2010. He was named the Mid-American Conference "Recruiter of the Year" by Scout.com in 2011 and 2012. In 2014, Candle was one of only two MAC assistant coaches to be named by Rivals as being among the top recruiters in the Group of Five football conferences.
Since taking over as head coach, Candle's recruiting success has continued. Despite having just a few weeks to put together a staff at the conclusion of the 2015 season, Toledo's 2016 class was ranked No. 2 in the MAC by ESPN. The 2017 Rocket recruiting class was rated No. 1 in the MAC by every major recruiting service.