UT art students to showcase works Dec. 18
---
For one night only, creations by more than 20 UT art students who took the Concepts in Art, Studio and Theory class fall semester will be on display.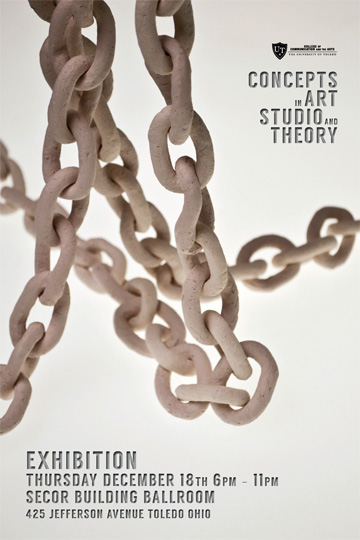 Check out their work Thursday, Dec. 18, from 6 to 11 p.m. in the Secor Building Ballroom, 425 Jefferson Ave.
"The students' unique and personal practices explored current and complex issues through diverse works ranging from sculpture, photography, design and ceramics," Brian Carpenter, UT instructor of art, said. "Spanning the mystical, ideological and political, the exhibition is the culmination of each student's investigation into both the practice and theory of his or her chosen subject."
Carpenter, who taught the Concepts in Art, Studio and Theory fall semester, explained the importance of the class.
"The Concepts in Art, Studio and Theory course prepares studio art majors for their bachelor of arts degree through an exploration of what it means to construct a creative and meaningful life as an individual focused on the arts," he said. "The course provides an experiential and creative forum that is bound by theories and practices of contemporary art, inspired by visiting artists, and embedded in the Toledo art community.
"It is in this context that emerging artists hone previously acquired skills and knowledge to create self-directed works of art based on concepts, research and class critiques."
For more information on the free, public exhibition, contact Carpenter at brian.carpenter@utoledo.edu.