Director of jazz studies records big band album at UT
---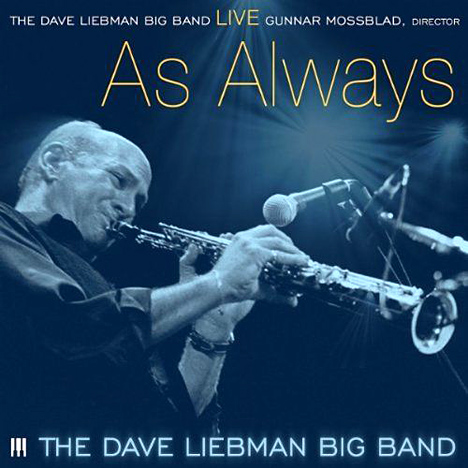 After touring the country with stars including Stevie Wonder and The Temptations, UT Director of Jazz Studies Gunnar Mossblad, a member of the critically acclaimed Dave Liebman Big Band, helped bring that group to the University to record a live album.
"Jazz is America's art form. It is the only art form developed in the U.S. You can take any type of music and turn it into a jazz piece. When we travel in Europe, we are treated like rock stars and the audiences are very responsive," Mossblad said.
In 2007, Mossblad, a saxophonist in the New York-based Dave Liebman Big Band, took the show on the road. The Denver and Toledo performances on the tour were recorded and became a live performance CD titled Live as Always. The Toledo performance in April 2007 was recorded in UT's Doermann Theater.
The recording company submitted the CD and Mossblad's name for a Grammy nomination in the category of Jazz: Best Instrumental Arrangement. The members of National Academy of Recording Arts & Sciences, who award the Grammys, voted to move Mossblad's nomination to the next level in the process, which is a committee at large. The committee at large has the final say on nominations and, unfortunately, Mossblad did not move past the final round of voting.
Mossblad, professor of music, said that he is happy to have been considered for the award and hear the positive reviews.
One such review was by Kent L. Carter of the Philadelphia Inquirer: "It was the array of innovative arrangements played by the big band that best showed off the musicianship of the leader, his musical director (reed man Gunnar Mossblad), and the rest of his 19-man ensemble."
"It's the hardest music I have played in my life, but it is the most artistically fulfilling," Mossblad said. "I can't wait to get back on the road and share the music with more people."
While Mossblad's work takes him on the road, he is always available to students who need advice on developing a career as an artist.
"In the jazz division, we encourage students to be artistically prepared and master their instrument," Mossblad said. "They also have to be a business person and know about contracts, bid jobs and copyright laws. You have to have an entrepreneurial spirit and be a realist in this field, and that is what I tell my students."