MAC packs available for men's, women's hoop programs
---
Four-game mini-plans for $32 are available for the Toledo men's and women's basketball programs.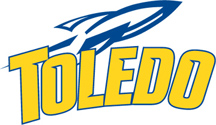 The MAC packs feature contests between the Rockets and Mid-American Conference foes.
The men's four-game package includes Saturday contests vs. Western Michigan (Jan. 17), Bowling Green (Jan. 24), Kent State (Feb. 14) and Ball State (Feb. 28) and is available in upper east A sections 203, 204 and 205.
General admission tickets are available for the women's contests as part of the promotion in games vs. Buffalo (Jan. 21), Eastern Michigan (Jan. 24), Ball State (Feb. 7) and Central Michigan (Feb. 28).
Fans can order tickets online at utrockets.com, by calling 419.530.GOLD (4653) or at the UT Ticket Office in Savage Arena.
Click to access the login or register cheese