Theatre students head to regional competition
---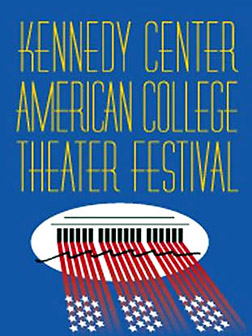 Eleven students and one recent graduate will represent The University of Toledo Theatre and Film Department this week at the Kennedy Center American College Theatre Festival Region II.
The group left for Indiana University of Pennsylvania in Indiana, Pa., Tuesday morning and will return Sunday, Jan. 15.
Heading to the competition are Jo Ellen Jacob, a history major; Jillian Albert, theatre and psychology major; Chellsea Starr Cutino, theatre major; Juan Rodriguez, theatre and film-video major; Devon Desmond, music major; Lauren Eaton, theatre and film-video major; Megan Beckett, who graduated in December with a bachelor's degree in theatre; Megan Aherne, theatre major; Ashley Stephens, theatre major; Tyria Allen, theatre major; Marshall Kupresanin, history and theatre major; and DaNisha Williams, theatre major.
"This is a great honor for the students who participate as well as a great opportunity for them to be able to attend this festival," said James Hill, chair and professor of theatre and film.
According to Irene Alby, UT associate lecturer of theatre, the choice of students nominated to compete at the festival results from a collaboration between the director of a UT production featuring students — who considers input from other faculty — and a qualified outside respondent, who comes from another college in the region to view the production.
"At the festival, students get to network and do workshops with industry professionals and some graduate school faculty from different programs," Alby said. "They have the chance to compete against hundreds of students from other institutions, showcase their work, and see what other schools are doing.
"Additionally, receiving awards and nominations really looks good on their resumés," she said.
Theatre students held a raffle in December to help raise funds for the trip.
The Kennedy Center American College Theatre Festival Region II comprises approximately 90 colleges from Ohio, northwest New York, Pennsylvania, New Jersey, Delaware, Maryland, northern Virginia, West Virginia and Washington, D.C.