Toledo Mayor, University President Invite Community to Unity Day Celebration
---
Toledo Mayor Wade Kapszukiewicz and University of Toledo President Sharon L. Gaber are inviting community members throughout northwest Ohio to the 2020 Dr. Martin Luther King Jr. Unity Day Celebration.
The 19th annual Unity Day Celebration, which is free and open to the public, will take place Monday, Jan. 20, from 9 to 11 a.m. in Savage Arena. A free community breakfast will be served to begin the event.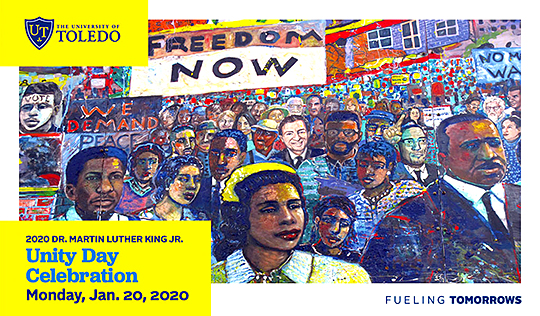 This year's theme of "Dream, Believe, Do" helps connect King's iconic dream of freedom and equality with the belief and action needed to help make it a reality, according to organizers. As part of the celebration, winter kits will be packaged by community members for donation to Lucas County Children Services.
"At a time when our nation seems as divided as it has ever been, I encourage all Toledoans to join in the celebration of Martin Luther King Jr., whose life's work was dedicated to bringing people together and finding common ground," Kapszukiewicz said.
"As the city of Toledo's university, we view outreach and education as a critical part of our mission," Gaber said. "The UToledo community is proud to partner with our neighbors in celebrating Dr. King's legacy."
Alexis Means, reporter for WTVG-TV Ch. 13, is master of ceremonies for the Unity Day Celebration. The program will feature the awarding of scholarships, as well as songs, dance and spoken word performances by UToledo students, the UToledo Blue & Gold Pep Band, UToledo TRIBE Dance Team, students from Toledo School for the Arts, and Alicia Russell, soprano with the Toledo Opera.
Recipients of UToledo's Dr. Martin Luther King Jr. Scholarship, awarded each year based on academic excellence as well as civic and community service, also will be recognized.
The Unity Day Celebration is organized by a committee co-chaired by Sara Dastagir, assistant to Kapszukiewicz, and Dr. Willie McKether, UToledo vice president for diversity and inclusion, and vice provost.