Baby race set for women's basketball game vs. Miami on Feb. 20
---
UT fans can see if their baby is the fastest crawler in northwest Ohio during an upcoming Toledo women's basketball home game in the Toledo Rockets' Baby Race presented by Kroger.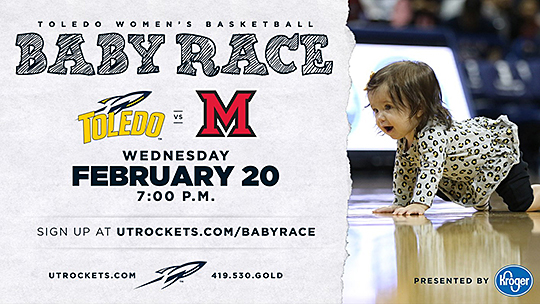 The race will take place during halftime of the women's contest vs. Miami Wednesday, Feb. 20. Tip-off time for the Mid-American Conference cross-division matchup is set for 7 p.m.
A maximum of five babies, age 12 months and younger, will compete in each race with one parent at the starting line and one parent at the finish line. The winning baby will receive a $100 Kroger gift card.
Individuals need to go to the Toledo Rockets' Baby Race website to register. Registration will close Monday, Feb. 18.
Each family selected to compete in the race will receive two free tickets and have the option to purchase additional tickets at a discounted price.
For questions, contact Adam Simpson in Atheltics at adam.simpson@utoledo.edu.
Click to access the login or register cheese