Training to help faculty recognize, assist at-risk students
January 26, 2018 |
UToday
By Staff
---
Faculty members and graduate assistants who teach are encouraged to attend a one-hour session on "How to Identify and Help Students in Crisis."
"Our students' safety and academic success are priorities at UT," said Dr. Amy Thompson, professor of public health and president of Faculty Senate. "We need to make sure our faculty and teaching assistants are adequately trained and prepared to help students in need.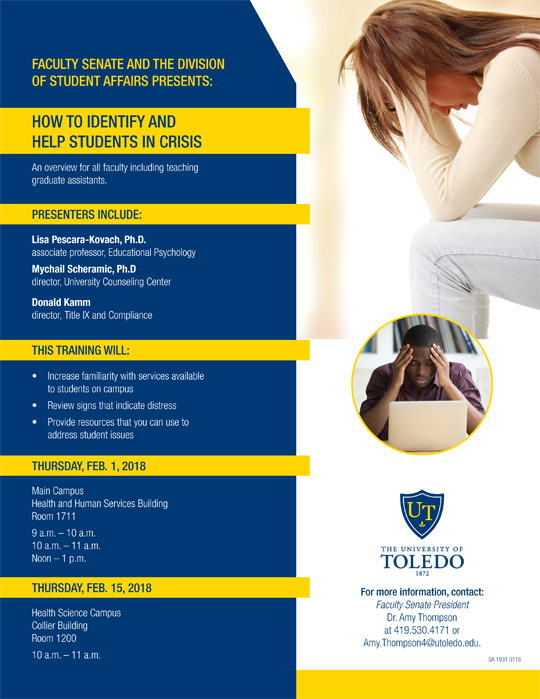 "That's why Faculty Senate has partnered with the Division of Student Affairs to help provide this important training for faculty and graduate teaching assistants."
There will be three training sessions offered Thursday, Feb. 1, in Health and Human Services Building Room 1711 on Main Campus: from 9 to 10 a.m., 10 to 11 a.m., and noon to 1 p.m.
Training also will be held Thursday, Feb. 15, from 10 to 11 a.m. in Collier Building Room 1200 on Health Science Campus.
Presenters at the sessions will be:
• Dr. Lisa Pescara-Kovach, associate professor of educational psychology, who will discuss identifying at-risk students;
• Dr. Mychail Scheramic, director of the University Counseling Center, who will talk about threat assessments; and
• Donald Kamm, director of Title IX and compliance, who will provide information on how to help students who have been sexually assaulted.
"Mental health and alcohol and other drug issues are major factors that can hinder academic success. It is important to help train faculty and those teaching our students how to identify at-risk students and refer them to needed services," Thompson said. "Many of us have never received such training, and this can really help improve student outcomes."
Space is limited at the sessions and is available on a first-come, first-seated basis.
The 9 a.m. Thursday, Feb. 1 session will be streamed live at https://youtu.be/Q_y86-Ov3M4. A recording will be available at the same link following the conclusion of the training.
For more information, contact Thompson at amy.thompson4@utoledo.edu.