Forum to Spotlight Service Learning Opportunities in Classroom, Lab
---
"Creating and Supporting Community-Engaged Learning" will be discussed at the next Future of Higher Education Forum Friday, Jan. 31.
Dr. Todd Crail, associate lecturer in the Department of Environmental Sciences, and Dr. Mohamed Samir Hefzy, professor of mechanical engineering and director of the mechanical and industrial engineering graduate programs, will be the speakers at the event, which will take place from 10:30 a.m. to noon in Carlson Library Room 1005.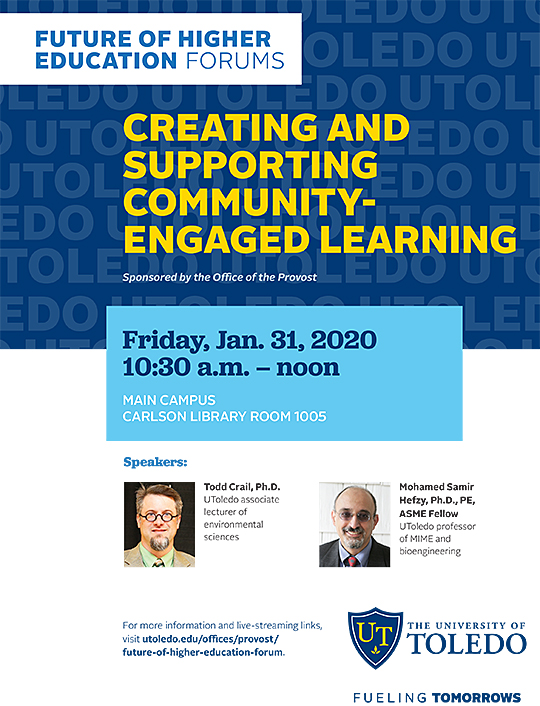 The two will discuss community-engaged learning — the practice of connecting students and faculty members with activities that address community-identified needs in a mutually beneficial partnership. "This partnership deepens students' academic and civic learning," Crail said.
"We will talk about how to get a course designated as service learning," Hefzy said.
An ecologist and naturalist, Crail has fostered undergraduate student engagement through field experiences both on campus and with the local conservation community to solve environmental issues. His project-based learning through informal classroom environments is designed to maximize students' experiences.
Since joining the University in 1987, Hefzy has supervised more than 130 undergraduate senior design projects as part of his community engagement and service learning.
The Future of Higher Education Forums are sponsored by the Office of the Provost.
Forums are held monthly throughout the academic year. Visit the Office of the Provost website to see upcoming topics, as well as to view past forums.
For more information, contact Dr. Amy Thompson, vice provost for faculty affairs and professor of public health, at amy.thompson4@utoledo.edu.