Toledo Men's Basketball to Host Craft Beer Night Feb. 11
---
The Toledo men's basketball program will host Craft Beer Night at Savage Arena prior to its game vs. Miami Tuesday, Feb. 11.
Cost for the annual event is $35 and includes game ticket, 12 three-ounce beer samples, and appetizers. Tickets are $25 for fans who have already purchased their game tickets. The cost for designated drivers is $25 and includes game ticket and appetizers with soft drinks.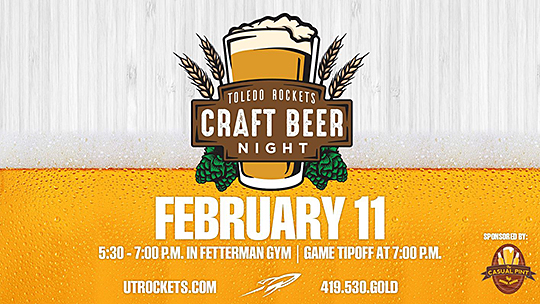 Attendees will be required to show a valid photo ID upon entry. No refunds or exchanges will be provided for failure to provide ID or failure to attend.
The event will take place in the Fetterman Gym from 5:30 to 7 p.m. and is for fans 21 and older.
For more information, visit the Rocket Ticket Office in Savage Arena, call 419.530.GOLD (4653), or go to the Toledo Rockets' website.
Click to access the login or register cheese