New application allows Facebook users to send free 'Givt' cards
---
Facebook users long have enjoyed the ability to easily wish friends a "happy birthday" or "congratulations" via the social networking tool. Now a firm co-owned by a University of Toledo alumnus and supported by UT's Innovation Enterprises is making it easy to attach a free gift card to those well wishes.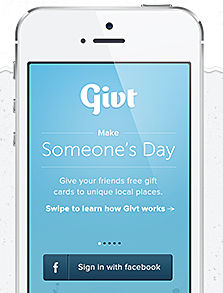 Givt is a new web-based app that allows users to send gift cards at no cost to friends and family through Facebook. The app was launched in December and created by Whisper Labs, a Toledo-based technology incubator and web design firm co-owned by Josh Cooper and Justin Blanchard, and co-founded by Todd Armstrong. Cooper earned a bachelor's degree in business administration and a law degree from UT.
The company is working with local businesses that are looking for innovative ways to attract new customers to their stores.
"Getting new customers is always a challenge for businesses," Cooper said. "We wanted to create an incentive to check out local business and also a way for the business to only pay when customers actually purchase in the store.
"Restaurants and retailers are interested in driving traffic into their stores and are willing to give money directly to the consumers so they can share their favorite brands with their friends," he said. "It's a win-win situation. Consumers get free gift cards, and businesses get new customers trying them out."
The tool is simple: Download the app and login through your Facebook account. Givt then walks you through the friends who are having birthdays or allows the user to seek out specific people to receive the free gift card. Once the recipient is selected, a set of gift card options from local businesses is offered. The cards are free to give, but come in specific denominations.
Givt can be accessed through the mobile web by going to givt.com on any smart phone or by connecting through Facebook. It also is available as a downloadable app at the iTunes and Android app stores.