'The Vagina Monologues' to raise awareness, funds this weekend
---
The University of Toledo Sexual Assault Education and Prevention Programming will present "The Vagina Monologues" Friday through Sunday, Feb. 3-5.
UT students, employees and alumni will perform Eve Ensler's play Friday and Saturday at 7:30 p.m. and Sunday at 6:30 p.m. in the Thompson Student Union Ingman Room.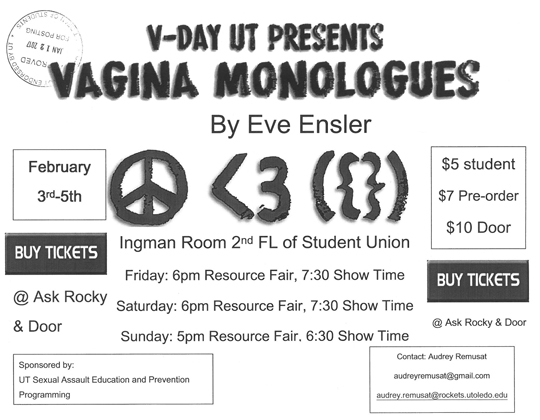 Buoyed by the success of the 1996 play, Ensler and others launched V-Day, a global movement to end violence against girls and women through creative events that raise awareness and money for anti-violence organizations. Since 1998, the movement has collected more than $100 million for the cause.
"Given the current political climate and how Roe v. Wade is in danger of being overturned, events like these are even more vital to raising awareness of women's issues," said Audrey Remusat, UT alumna who graduated with a master of arts degree in sociology in 2012 and is directing the performance.
"We put on this show each year to get people to talk about vaginas. To this day, people will turn their head with a look of surprise or disgust when they hear the word. This show is to empower those who have a vagina and destigmatize the word. It is also about discovery; you'll be surprised how many don't know about their own vagina, so we talk about it to normalize it and let people know it's OK to say this word," Remusat said.
UT's shows will benefit the YWCA Hope Center and the V-DAY Spotlight.
"The YWCA Hope Center is here for people who have been survivors of domestic abuse or sexual assault. The center offers shelters for domestic violence survivors and even has places for children," Remusat, an Aramark employee, said. "Furthermore, the YWCA also has an on-campus advocate that is available for anyone who may need resources or support."
Tickets will be sold at the door for $5 for students and $10 for general admission — or $7 in advance at the Ask Rocky counter in the Thompson Student Union.
Before the show, a resource fair will be held starting at 6 p.m. Friday and Saturday and at 5 p.m. Sunday with local organizations and businesses owned and operated by women.
In addition, there will be a show for students Wednesday, Feb. 1, at 8:30 p.m. Tickets for this event are $3.
For more information, contact Remusat at audrey.remusat@rockets.utoledo.edu.