Get ready to cheer on the Detroit Pistons at UT Students NBA Night
February 3, 2017 |
UToday
By Ashley Diel
---
Students are invited to join the UT Explorers at the UT Students NBA Night Friday, Feb. 10, when the Detroit Pistons will take on the San Antonio Spurs at 7:30 p.m. at the Palace of Auburn Hills.
Tickets for the game can be purchased for $35, which includes transportation, a free Pistons gift item, Center for the International Studies and Programs T-shirt, and a post-game free-throw shot on the court.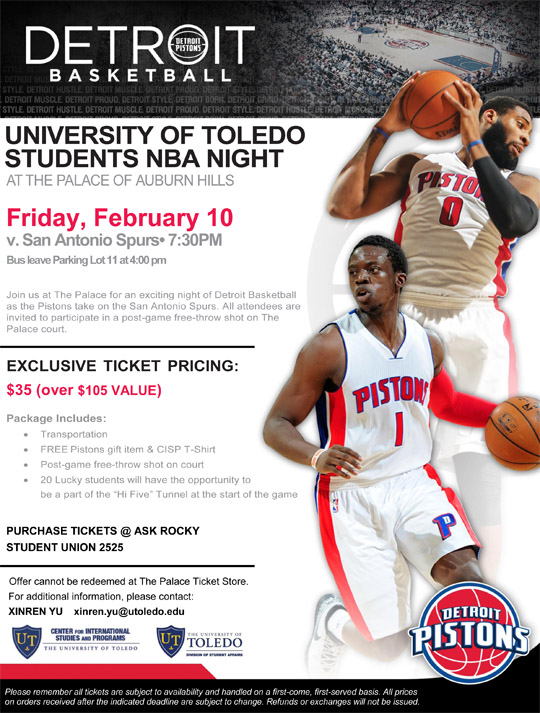 Twenty students also will have the opportunity to be part of the high five tunnel at the start of the game.
Students can save $5 on the ticket by signing up as a pair of one international student and one domestic student. Tickets can be purchased at Ask Rocky on the second floor of the Thompson Student Union.
"We are here to bridge cultures and provide opportunities for our international students to learn about U.S. culture," said Xinren Yu, international program coordinator in the Confucius Institute. "It will be a diverse group, and students will be able to learn from each other while enjoying a fun NBA game."
There will be a shuttle bus leaving Parking Lot 11 at 4 p.m.
UT Explorers is a group that works to enhance the linguistic and cultural competencies of campus learners and scholars while promoting a culture of lifelong learning by providing opportunities for collaboration and engagement with UT campuses and communities.
Any questions about the game can be answered by contacting Yu at xinren.yu@utoledo.edu.