Trek south with UT Explorers for skiing Feb. 18
February 13, 2017 |
UToday
By Ashley Diel
---
Join UT Explorers on a skiing trip to Mad River Mountain Saturday, Feb. 18, from 9 a.m. to 5:30 p.m.
Tickets for the trip to Zanesfield, Ohio, can be purchased for $67, which includes transportation, ski equipment rental, admission, and a hot beverage.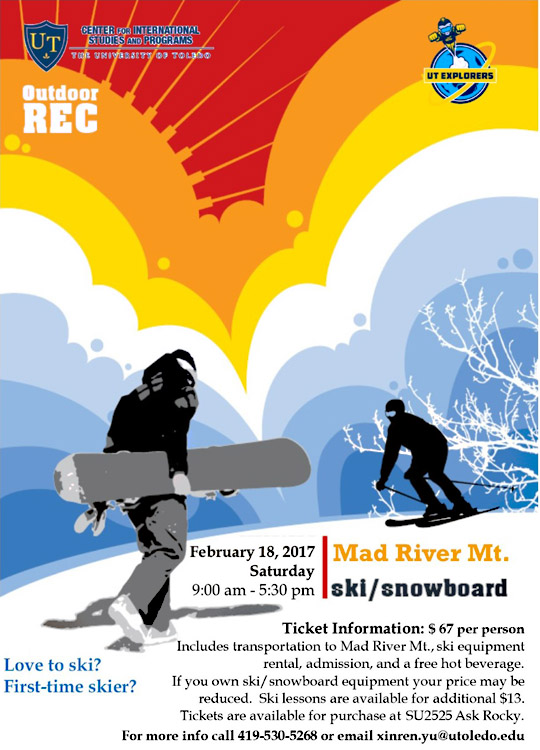 Students who have their own ski or snowboard equipment will receive a reduced price. Skiing lessons are available for an additional $13.
The event is open to everyone, and first-time skiers and snowboarders are welcomed, said Xinren Yu, international program coordinator in the Confucius Institute.
Students can save $5 on the ticket by signing up as a pair of one international student and one domestic student. Tickets can be purchased at Ask Rocky on the second floor of the Thompson Student Union.
"A lot of our international students come from tropical areas and have never seen snow before, let alone [participated in] winter sports," Yu said. "This would be a great event for them to experience something different. The event is open to everyone, and we hope to get a diverse group of students."
UT Explorers is a group that works to enhance the linguistic and cultural competencies of campus learners and scholars while promoting a culture of lifelong learning by providing opportunities for collaboration and engagement with campuses and communities.
Any questions about the trip can be answered by contacting Yu at xinren.yu@utoledo.edu or call 419.530.5268.