UT to host 20th annual Geriatric Medicine Symposium
---
The theme of The University of Toledo's 20th annual Geriatric Medicine Symposium will be "Self-Care Among Older Adults: Promoting Their Physical, Cognitive and Mental Health."
The symposium will take place Friday, March 4, from 8 a.m. to 4:15 p.m. in the Levis Commons Hilton Garden Inn in Perrysburg.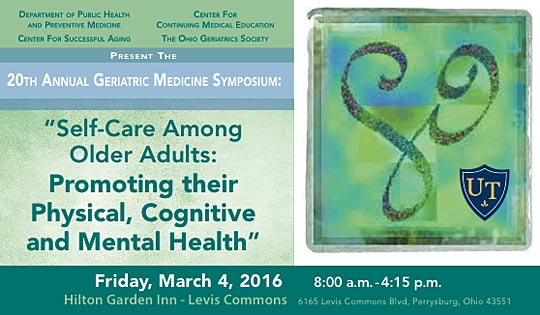 The goal of the conference is to address therapies that can be used by older adults to improve their physical, cognitive and mental functioning and maintain their independence.
The event offers continuing education credit and is accredited by the Accreditation Council for Continuing Medical Education. Family physicians, internists, geriatricians, psychiatrists, nurses, counselors, social workers, nursing home administrators, psychologists, physician assistants, physical and occupational therapists, pharmacists, residents, and students are encouraged to attend.
Fees are $25 for UT students and residents; $70 for UT faculty and staff, and Ohio Geriatric Society members; and $80 for other health-care professionals. For a printed syllabus, there is an additional $20 fee.
To register, visit http://cme.utoledo.edu.
The registration deadline is Friday, Feb. 19.
For more information, click here or contact Britney Molnar at britney.molnar@utoledo.edu.