Student engagement survey offers opportunity to share opinions, win prizes
February 18, 2019 |
UToday
By Meghan Cunningham
---
Students, your opinion matters. Freshmen and seniors have the opportunity to share their experiences on campus by participating in the National Survey of Student Engagement (NSSE) College Student Report.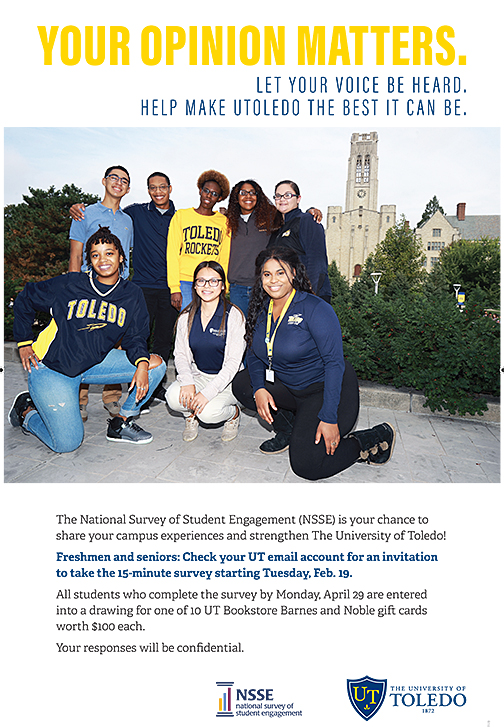 The survey is administered every other year and provides the University important data on the amount of time and effort students put into their studies and other educational activities, as well as how the institution uses its resources and organizes its curriculum to foster student learning.
"It is critical that we hear from students about their experiences so that we can make data-informed decisions to continue to strengthen the programs and services we provide to support their success," said Dr. Phillip "Flapp" Cockrell, vice president for student affairs. "This survey is an important tool to take a look at what we're doing here on the UT campus and to benchmark against our peers."
To encourage participation, the Division of Student Affairs is offering the chance to win one of 10 University Bookstore Barnes & Noble gift cards worth $100 each for completing the survey, which takes about 15 minutes.
Freshmen and senior students eligible for the survey will receive their first invitation Tuesday, Feb. 19, with their unique code to take the survey. All responses will be kept confidential.
For questions about the survey, contact Dr. Mingyang Liu, survey statistician for Institutional Research, who serves as the NSSE campus project manager, at 419.530.1243 or mingyang.liu@utoledo.edu.