'Old Times' to be staged Feb. 22
---
In a whitewashed farmhouse somewhere by the sea, three people digest the casserole they had for dinner and reminisce about the past.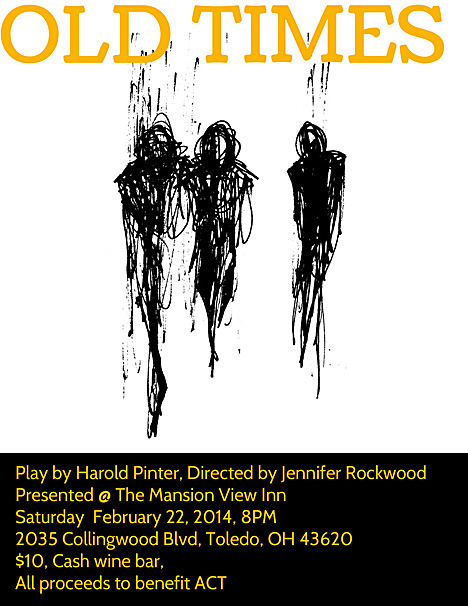 Anna, the guest, once shared a flat with Deeley's wife, Kate. They rhapsodize nostalgically about their younger days spent going to concerts, listening in cafés, playing records of Gershwin and Kern. Constrained but affable husband Deeley joins a contest of memories, singing snatches of the songs of the 1940s, while Kate smiles on.
As the memories unfold, we watch as the trio's lives intersect, blurring the lines between past and present.
Actors Collaborative Toledo will present a reading of Harold Pinter's "Old Times" Saturday, Feb. 22, at 8 p.m. at Mansion View Inn, 2035 Collingwood Blvd., Toledo.
"Harold Pinter's artistry is defined by his use of language and the undercurrent of sexual tension permeating the memories of the couple and their guest," said Jennifer Rockwood, UT associate lecturer of theatre, who is directing the reading.
"Words become weapons as the three characters challenge one another with memories of decades gone by, marked by innuendo, verbal excess, silence and emotionally charged attempts to lay claim to the heart of a beloved."
Anna is played by Jennifer Nagy-Lake, Kate is played by Michelle Sullivan, and Deeley by John DuVall, all UT theatre alumni. Sullivan is the adviser for the College of Communication and the Arts.
Tickets for the reading are $10, and there will be a donation wine bar with proceeds going to the Actors Collaborative Toledo and Mansion View.
There also will be a dress rehearsal Friday, Feb. 21, at 8 p.m. for students at half price.
Seating is limited; reservations are suggested by calling 419.244.5676 or 419.351.5928.