New library search feature to improve research efficiency
---
Finding books, articles and other resources through The University of Toledo library website became even easier this month thanks to a new catalog search option.
The new search feature is based on EBSCOhost, a popular online database that allows users to sift through thousands of scholarly journals and articles, magazines, e-books and more.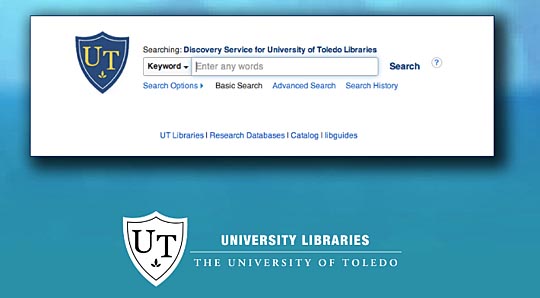 The former process to look through the library's resources and a number of databases that UT subscribes to required multiple different searches. The new search interface simplifies that process by combining nearly all of the available resources into one search.
"This will be much more efficient for people researching our collections because they won't necessarily need to look elsewhere," said Chris Rigda, coordinator of library systems.
Search results in the new discovery layer will include both the library's electronic resources and its print resources and their availability, all of the EBSCO databases the University subscribes to, and other e-resources such as the Electronic Journal Center and the Web of Science. By clicking on the advanced link, users will be able to limit their search results based on a number of factors or widen their search to include OhioLINK resources.
The old library catalog only searched 10 EBSCO databases and the library's physical collections and excluded most of the databases the University subscribes to.
"We wanted to be able to integrate them into one easy search without people having to search several times for the same subject in many different databases, or searching one database and missing many other articles and materials because they didn't know they were available to them," Rigda said.
Click here to check out the new search option.
For more information, contact Rigda at christine.rigda@utoledo.edu or 419.530.2333.