Women's rights, immigration policy to be subject of faculty showcase
---
The University of Toledo's School of Interdisciplinary Studies will host a faculty showcase focusing on women's rights and immigration policy Friday, Feb. 24, in Libbey Hall.
The showcase will begin at 5:30 p.m. with a cash bar and light refreshments, followed by presentations by two faculty members on research they have developed during the past year.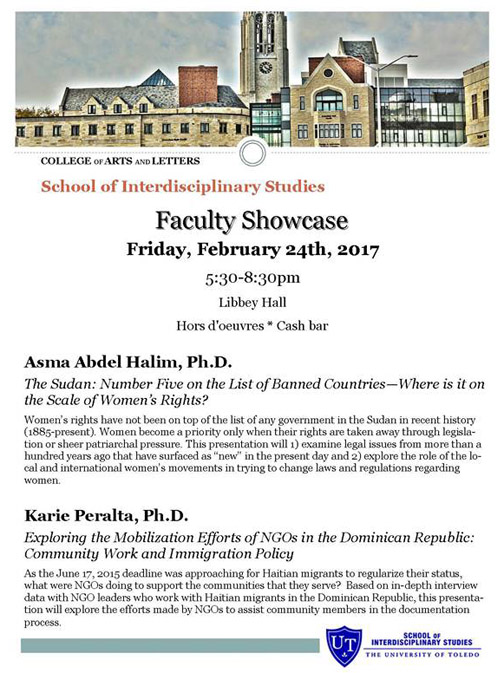 Dr. Asma Abdel Halim, associate professor and chair of the Department of Women's and Gender Studies, will discuss women's rights in the Sudan, which ranks No. 5 on the list of countries affected by President Donald Trump's travel ban. She will examine women's rights in the Sudan from a legal perspective, including the issues that face women in the country, as well as what local and international women's organizations are doing to change Sudanese laws and regulations affecting women.
Dr. Karie Peralta, assistant professor in the Department of Sociology and Anthropology, will focus her presentation on the efforts of non-governmental organizations to assist Haitian migrants in the Dominican Republic in navigating the documentation process needed to regularize their status. She will present information gathered from in-depth interviews with non-governmental organization leaders working with the migrants.
"As the community prepares to commemorate Women's History Month in March and continues to wrestle with issues of immigration, these presentations will give attendees the opportunity to explore these topics in greater depth led by UT faculty members who have specialized in researching these subjects," said Dr. Jim Ferris, director of the School of Interdisciplinary Studies and Ability Center of Greater Toledo Endowed Chair in Disability Studies.
The School of Interdisciplinary Studies, part of the College of Arts and Letters, is the leading engine of interdisciplinary scholarship in the humanities and social sciences at the University. The school offers bachelor's and master's degrees in 10 fields that work between as well as across traditional disciplinary boundaries to find innovative ways to solve problems.