'Anatomical Art' to accompany 'Medicine on the Maumee' exhibit
---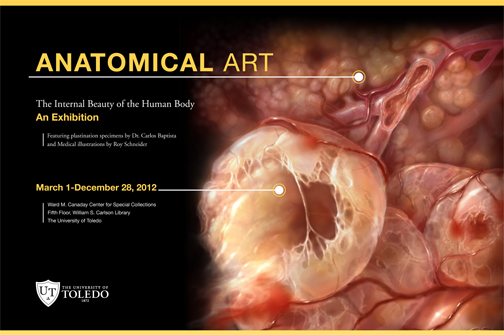 To accompany its "Medicine on the Maumee" exhibition, the UT Ward M. Canaday Center for Special Collections will feature an exhibition of anatomical specimens and medical illustrations prepared by members of UT's Health Science Campus.
"Anatomical Art: The Internal Beauty of the Human Body" will be on display in the art gallery area on the fifth floor of Carlson Library adjacent to the Canaday Center.
The exhibit will feature specimens preserved through the process of plastination by Dr. Carlos Baptista, associate professor in the Department of Neurosciences. The specimens are produced as models used in teaching.
Last summer, the University hosted the 10th International Interim Conference on Plastination, organized by Baptista.
Also on display will be illustrations by Roy Schneider, manager of medical and biological illustration in the Center for Creative Instruction. Schneider, who has worked as an illustrator for more than 35 years, has extensive experience developing visualization concepts as they apply to the advancement of medical education.
He is an active member of the Association of Medical Illustrators, and received the International Dr. Frank Netter Award for the original concept and design of his work titled Anatomy Revealed.
Schneider is working to design and create surgical simulation training models and produce educational software for primary and secondary education.
"Together, the specimens and illustrations will allow visitors to literally see inside the human body," Floyd said. "Hopefully, they will leave with a greater sense of the beauty within."
The free, public exhibit will be on display through Dec. 28.