Spring Job Fest Set for March 3
February 26, 2020 |
UToday
By Staff
---
Representatives from more than 70 employers will be at The University of Toledo for the Spring Job Fest Tuesday, March 3.
The event will take place from noon to 3 p.m. in the Thompson Student Union Auditorium.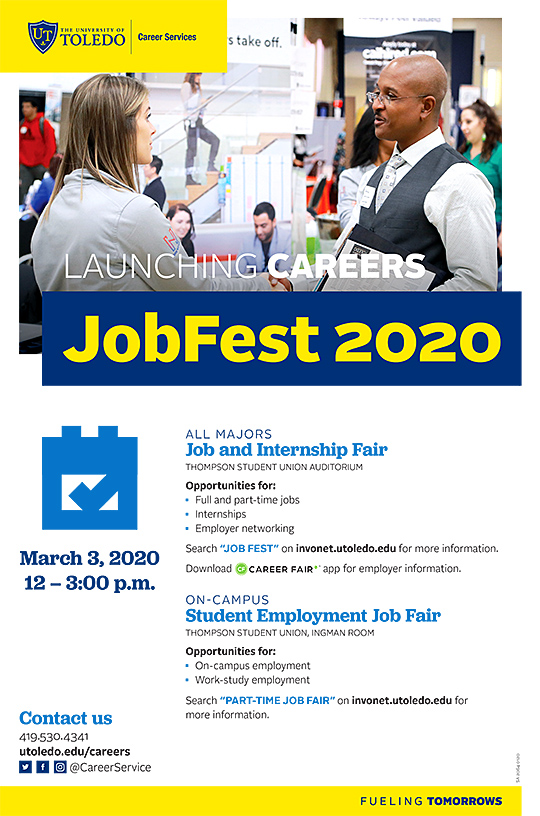 "We put a new spin on this annual event. The Spring Job Fest will include the addition of the on-campus student employment job fair along with the all-majors job and internship fair," said Shelly Drouillard, director of career services.
That means students can look for part-time jobs and seasonal employment, internships, and full-time positions.
Professional business attire is recommended.
"Students should plan to attend this event, which will offer a chance to meet potential employers, practice their interpersonal skills, and prepare for interviews," Drouillard said.
In addition, students will have the opportunity to meet with representatives from more than 20 Japanese companies that are members of the Japan External Trade Organization.
"We are excited to add additional opportunities for our students to find experiential learning and employment opportunities, whether that is on or off campus," said Shannon Niedzwicki, assistant director of internship and employment development. "This event will be the one-stop shop for all students and offer a diverse range of opportunities."
Students can meet with representatives from numerous businesses, including Beaumont Health, Caliber Smart, Cedar Point, City of Detroit Law Enforcement, Clean Harbors, Fifth Third Bank, Honda Kaihatsu Americas Inc., Inverness Club, Mercy Health, and Mitsubishi Electric Automotive America.
To see the list of participating companies, go to the Spring Job Fest Involvement Network web page or download the Career Fair Plus app. The app provides students with the latest employer information, links to research employers prior to the event, the ability to tag favorite employers to check out at the event, a map of the fair, and a place to take notes throughout the day.
Students who need assistance with job-hunting strategies, resumés and interview skills can check out the Career Services website, or stop by the office, located in Thompson Student Union Room 1533 or call 419.530.4341.