Dress for success: Students invited to check out Professional Menswear and Kate's closets
February 27, 2019 |
UToday
By Anna Brogan-Knight
---
Career Services recently opened the Professional Menswear Closet. Now, in conjunction with Kate's Closet, a service of the Catharine S. Eberly Center for Women since 2013, students have access to professional clothing — women's and men's styles — to prepare for interviews and internships, and to build their professional wardrobes at no cost to them.
"We are excited to offer the Professional Menswear Closet in addition to the Eberly Center's Kate's Closet. By increasing our services and making sure all students have a source for business wear, we are aligning The University of Toledo more closely with national best practices and providing a solution for job fairs, interviews and other opportunities that arise, sometimes catching students unprepared in the clothing department," Shelly Drouillard, director of Career Services, said.
"Kate's Closet was started as a way to give women on campus and in the community an affordable alternative to shopping for interview clothing, an expense that may be out of reach for many students, especially women," Dr. Kim Nielsen, interim director of the Catharine S. Eberly Center for Women, said. "With the help of our community advisory board, we have been able to offer current clothing and trained volunteers to help our students find the best fit and look at no cost to them."
"The timing is perfect for our summer job and internship fair, Jobfest on March 19," Drouillard said. "Students have time to make an appointment with the clothing closets to get their business casual look together. First impressions mean a lot; that means being ready with a resumé, which Career Services can help you review, and a polished, professional look."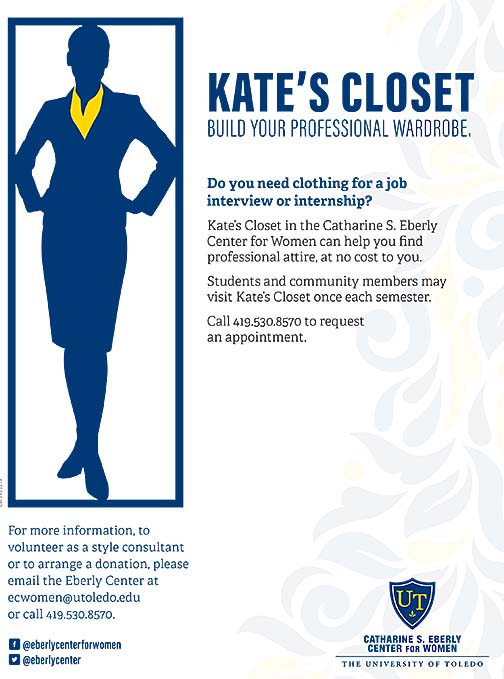 Both closets are welcoming, inclusive spaces and are LGBTQA+ friendly.
Students who need menswear should go to the Professional Men's Closet website or call 419.530.4341 to request an appointment.
If women's styles are what you need, call the Eberly Center at 419.530.8570 to set up an appointment.
After your wardrobe is set, plan to attend the Job Fair Prep & Networking Night Tuesday, March 12, from 6 to 8 p.m. in the Thompson Student Union Ingman Room. Career Services and the UT Alumni Association will offer tips and facilitate networking.
Students who need assistance with their resumés or Jobfest strategies should go to Career Services, located in Thompson Student Union Room 1533. Undergraduate drop-in hours are Monday, Thursday and Friday from 10 a.m. to 5 p.m., and Tuesday and Wednesday from 10 a.m. to 6 p.m.
For more information, contact Career Services at 419.530.4341.