Donate Through Grubhub App to Help Feed UToledo Students in Need
February 28, 2020 |
UToday
By Alexis Razo
---
The Office of Student Advocacy and Support has partnered with UToledo Dining Services to take initiative in feeding UToledo students who are food-insecure. The office already has an established food pantry and is looking to extend this initiative through the Feeding Tomorrows campaign.
"Services like the UToledo Food Pantry are a blueprint to a golden success," said Dr. Sammy Spann, associate vice president and dean of students. "We are honored to help those who suffer from food insecurities and provide them with the nutrition needed to help them obtain their education."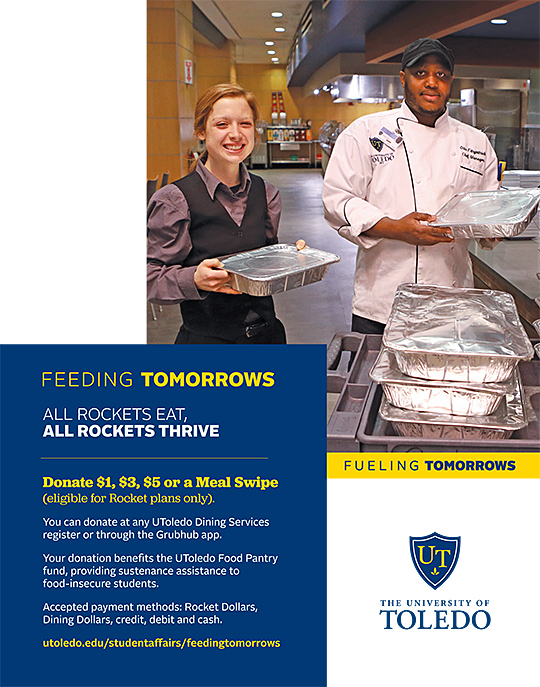 The Feeding Tomorrows campaign allows students, faculty, staff and the UToledo community the chance to contribute to the cause in a mobile format, allowing the initiative to reach a larger audience.
Donations may be made through the Grubhub app in the amount of $1, $3 or $5. Accepted payment methods include Dining Dollars, Rocket Dollars, credit and debit.
To view a tutorial on how to donate through Grubhub, visit this Student Affairs web page.
If you would like to donate in the amount of $1, $3, $5 or a meal swipe in person, you may visit any UToledo dining center register. Donations will be used to fund the UToledo Food Pantry and provide food-insecure students with assistance.
"With approximately 60 UToledo students seeking help from the food pantry every week, it is time to respond to this need in a big way," said Cameron McAdams, dining resident district manager. "Our goal is to have students focus on their academic success without having to worry about where their next meal is coming from."
For more information on the Feeding Tomorrows initiative, visit the Feeding Tomorrows website.