UT Graduate Student Association to host Midwest research symposium
---
The University of Toledo's Graduate Student Association is accepting registration for its ninth annual Midwest Graduate Research Symposium.
The symposium will take place Saturday, April 7, in the Memorial Field House and the Thompson Student Union.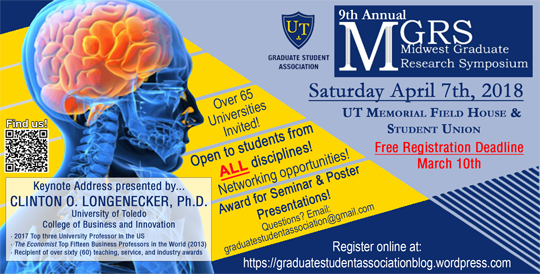 "The Midwest Graduate Research Symposium is an inspirational event that uniquely features the talents of graduate students from across the nation," said Mitchell Haines, president of the Graduate Student Association. "Each year I am inspired by the ambition, innovation and work ethic from so many individuals."
Graduate students from 65 universities from across the United States are invited to the symposium, which will consist of oral and poster presentations, professional development workshops, and an award ceremony. The event provides a great opportunity for students to share their research, refine their communication skills, and experience a diverse, intercollegiate environment.
"The Midwest Graduate Research Symposium has presented me with challenges that I may not experience in my normal degree program," said Alisa Nammavong, vice president of the Graduate Student Association. "It has pushed me to work harder and manage time better while staying positive to lead and inspire others."
The symposium will feature a keynote address from Dr. Clinton Longenecker, Distinguished University Professor of Management and director of the Center for Leadership and Organizational Excellence in the UT College of Business and Innovation. Longenecker has received more than 60 research, teaching and service awards. During his address, he will discuss his new book, "The Successful Career Survival Guide," and additional topics regarding brand development and emotional intelligence.
Several awards will be given out during the dinner, where the top three oral presentations and posters will be recognized.
Registration must be submitted by Saturday, March 10, online here. All participants will receive invitations to the awards dinner.
For more information, contact the Graduate Student Association Office at graduatestudentassociation@gmail.com.