Diversity plan process moves forward with launch of anonymous online survey
March 2, 2016 |
UToday
By Kathleen Walsh
---
The University of Toledo continues to move forward with development of a comprehensive diversity plan. Dr. Willie McKether, special assistant to the president for diversity, has released an anonymous online diversity survey that is available to the UT community through Friday, March 18.
The 40-question survey should take about 20 minutes to complete and contains queries designed to anonymously collect honest feelings about campus climate, classroom climate and inclusion. A handful of questions are open-ended for participants to provide in-depth responses.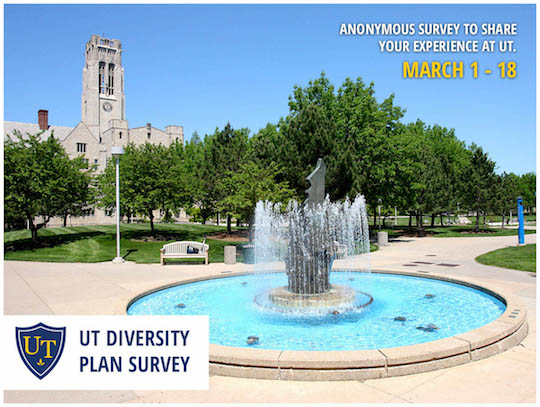 The survey is one of the tools being used to gather information that will guide the development of a comprehensive, university-wide diversity plan. The survey follows a series of campus and community conversations on diversity that included students, faculty, staff and Toledo residents.
"While we heard loud and clear some issues in the diversity conversations, the online survey will allow us to reach further and collect the feelings and viewpoints of those who couldn't attend forums or prefer the anonymity of an online survey," McKether explained.
A link to the online survey is scheduled to be delivered to all student, faculty and staff university email boxes Tuesday, March 1. Additionally, print copies can be requested at the following locations:
• Main Campus — College of Graduate Studies Office, University Hall Room 3240; YOUCollege Office, Rocket Hall Room 1800; Dean of Student office, Student Union Room 2509; Ottawa House West front desk; and Engineering Co-Op Office, Nitschke Hall Room 1045.
• Health Science Campus — Mulford Library front desk, Mulford Library fourth floor, and Information Center desk, UT Medical Center main lobby.
• Scott Park Campus — Internal Audit Office, Learning Resource Center Room 3810.
"I encourage participation in the diversity survey from students, faculty and staff. If we do not hear the voices of the entire UT community, then we risk falling short in writing and implementing a meaningful, impactful, university-wide diversity plan," said UT President Sharon L. Gaber.
In addition to the anonymous survey and community forums, McKether has formed an ad hoc diversity advisory committee that includes students, faculty, staff, Toledo community members, a UT trustee and a Toledo City Council member. The advisory committee meets bi-weekly to offer feedback, direction and support to McKether's efforts.
Also, University leaders have decided to expand Diversity Week in April to encompass the entire month. McKether said he is working with the Division of Student Affairs, student organizations and other groups on campus to develop additional programming highlighting this crucial UT core value.
The diversity plan is expected to be completed by the end of the academic year.
For more information or to ask questions about the plan, contact McKether at willie.mckether@utoledo.edu.