UT wins at 2011 Addy Awards
---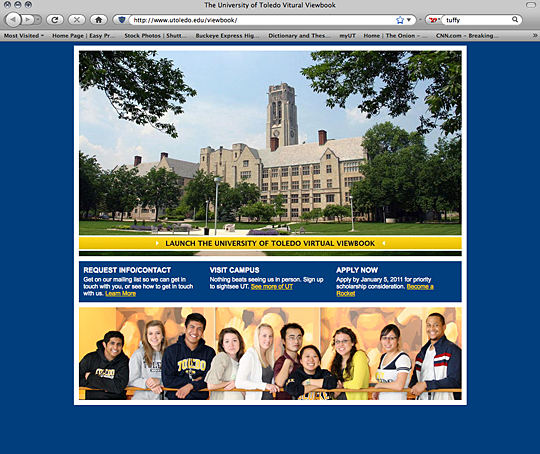 The theme was "Show Us What You've Got!" and what UT has is some real winners.
The University took home four honors from the 2011 Addy Awards, the annual event of the Advertising Club of Toledo. The program was held Feb. 24 at Stranahan Theater's Great Hall.
The Division of External Affairs, specifically the offices of Marketing and University Communications and the Center for Creative Instruction, won:
• A Gold Addy for the undergraduate view book in the category of collateral materials, color brochure;
• A Silver Addy for the virtual view book (utoledo.edu/viewbook) in the category of interactive media, micro or mini sites;
• A Gold Addy for the printed and virtual view books in the category of mixed/multiple media, national consumer; and
• A Silver Addy for "Why You Shouldn't Drink" posters in the category of public service posters.
"Our creative teams work together to combine diverse talents and produce amazing projects," said Lawrence J. Burns, vice president for external affairs and interim vice president for equity and diversity. "It's great to see our internal creative teams go head to head with outside agencies and be honored. Receiving that recognition from our peers for that wonderful work means that the University's interactive communications are reaching their targets."
UT's two Gold Addy Award-winning entries will be forwarded on to the district competition.