Job and Internship Fair to take place March 19
March 13, 2019 |
UToday
By Bailey Sparks
---
Students of all majors are welcome to attend The University of Toledo's upcoming Job and Internship Fair.
Job Fest 2019 will be held Tuesday, March 19, from 11 a.m. to 2 p.m. in the Thompson Student Union Auditorium.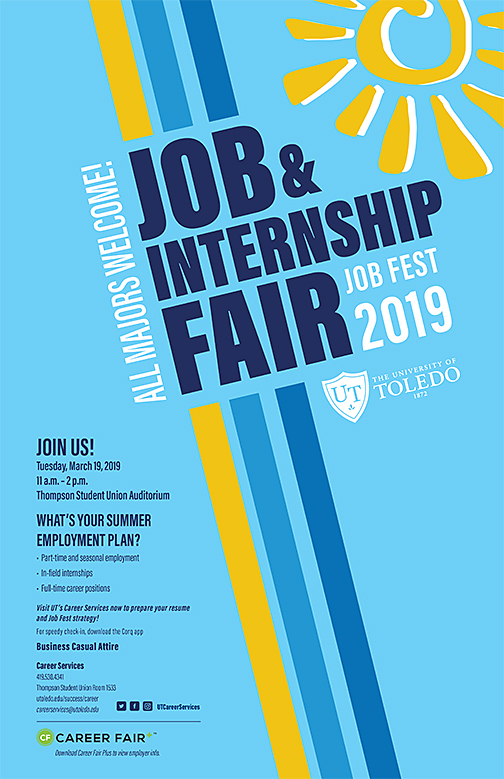 Approximately 90 employers will have representatives offering part-time and seasonal employment, internships, and full-time career positions for graduating seniors.
Business casual attire is recommended. The Professional Menswear Closet and Kate's Closet are two resources on campus for students to obtain business attire at no cost.
"Career fairs are a great place for all students to network with employers, practice their all-important elevator pitches, and perfect their handshakes in preparation for on-site interviews," said Shelly Drouillard, director of Career Services.
She added, "Students are often surprised to discover that some employers offer tuition reimbursement programs for part-time employees, which could be a huge benefit to our students who need funding for their education."
Students can find a list of participating employers on the Career Services website or by downloading the new Career Fair Plus app. The app provides students with the latest employer information, links to research employers prior to the event, the ability to tag favorite employers to check out at the event, a map of the fair, and a place to take notes throughout the day.
Students who need assistance with their resumés or job fair strategies should stop by Career Services, located in Thompson Student Union Room 1533. Undergraduate drop-in hours are Monday, Thursday and Friday from 10 a.m. to 5 p.m., and Tuesday and Wednesday from 10 a.m. to 6 p.m.
For more information, contact Career Services at 419.530.4341.