UT to sponsor student bus trip to MAC Women's Basketball Tournament
March 14, 2013 |
UToday
By Paul Helgren
---
The University of Toledo is providing a free bus trip for UT students wishing to attend the Mid-American Conference Women's Basketball Tournament at Quicken Loans Arena in Cleveland this weekend.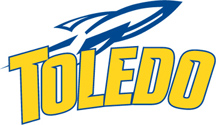 Toledo (27-2) is the No. 1 seed in the tournament and will play the winner of the Central Michigan-Bowling Green game at noon Friday, March 15. If the Rockets win that game they would advance to the MAC Championship Game at 1 p.m. Saturday, March 16.
The trip will include bus transportation, a game ticket and a box lunch. The Office of the Senior Vice President for the Student Experience is sponsoring two buses for the trip.
The buses will depart the UT Transportation Center at 9 a.m. Friday and return to UT following the game.
The Athletic Department and the Alumni Association will provide a box lunch for all students on the buses. UT President Lloyd Jacobs is providing the game tickets.
If Toledo advances to Saturday's championship game, the buses will depart at 10 a.m. and return after the contest.
Only online reservations are being taken for the trip. Reservations are first-come, first-served. Reservations may be made for one or both games. Reservations for Friday can made at
toledoalumni.org/FridayMACTourney
To make reservations for Saturday, go to:
toledoalumni.org/SaturdayMACTourney
All trip participants will be required to bring their Rocket Card, plus another form of ID, a cell phone, any incidental spending money that may be needed, and a waiver form. Each student will be required to bring the signed waiver form prior to departure — no exceptions.
If you have any comments, questions or concerns, contact Dr. Kaye Patten Wallace, senior vice president for the student experience, at Kaye.PattenWallace@utoledo.edu