UToledo to Host March 16 'Black Women, Health and Healing' Virtual Panel
---
The Department of Women's and Gender Studies and the Africana Studies Program are hosting a virtual panel on Wednesday, March 16, from 7-8:30 p.m.
Titled "Black Women, Health and Healing," the WebEx panel will feature local and national change-makers who are continuing the important historical legacy of Black women and grassroots health advocacy.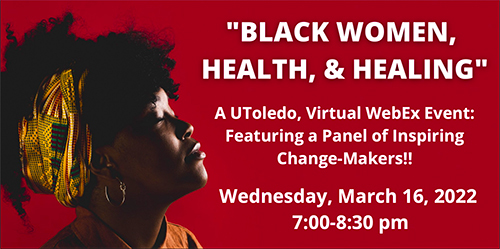 The panel will discuss the following topics: addressing mental health and trauma; identifying barriers to physical health and well-being; sharing tools for healing and self-recovery.
Dr. Rachel Dudley, assistant professor of Women's and Gender Studies and Professor Angela Siner, director of the Africana Studies Program, will facilitate the virtual event.
"The Women's and Gender Studies Department and the Africana Studies Program are excited to (virtually) welcome such an amazing group of local and national change-makers. Our esteemed panelists work on issues around Black women and health in some really inspiring and innovative ways.
"As a Women's History Month event, we are celebrating the legacies of Black women such as Fannie Lou Hamer, Audre Lorde (and many others) who laid the groundwork for grassroots health and healing justice work. Please help us spread the word across campus and to the broader metro-Toledo community."
"The panel discussion is the perfect segue from the celebration of Black History Month to Women's History Month," Siner added. "The 2022 theme for Black History Month was Black Health and Wellness, and our program's theme Black Women, Health and Healing is the intersection of both. Our esteem panelists are experts in the areas of social justice and health, western medicine, and the healing arts-mind, body and spirit. They are part of the legacy of a rich cultural history and heritage of Black Women as healers and teachers. We hope members of both the campus and city community will join us for this important discussion."
Panelists include:
•  Angelica Simmons, j.d., founder and executive director of the Fannie Lou Hamer Institute for Advocacy and Social Action;
•  Amanda Hill — Healing By Choice! collaborator, Detroit-based community organizer, abolitionist and reiki practitioner;
•  Ameisha Tutwiler, UToledo m.d./mba candidate and developer of medical school curriculum on medical racism and systemic health inequity;
•  Tanisha Hoover, nmd, bsn, rn, naturopathic physician, CEO and founder of RxForHealth.
There will be a half-hour Q&A following the discussion.
For more to virtually attend the "Black Women, Health and Healing" panel, visit the event's Webex page.