Lecture to look at birding in northwest Ohio
---
With 32 recognized state parks, wildlife areas and refuges, northwest Ohio is rich with natural wonders. These areas are favorite spots for birds and watchers during spring migration.
Kimberly Kaufman, executive director of Black Swamp Bird Observatory, will discuss "Spring Songbird Migration in Northwest Ohio: The Business of Birding" Thursday, March 16, at 7 p.m. at the UT Lake Erie Center, 6200 Bayshore Road, Oregon.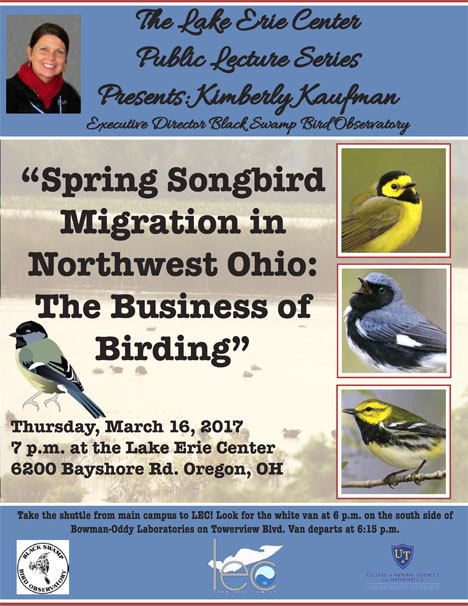 "Hosted by Black Swamp Bird Observatory, the Biggest Week in American Birding is a 10-day festival in northwest Ohio, 'the Warbler Capital of the World,'" Kaufman said. "The festival has something to offer beginner and seasoned birders alike, with bird identification workshops, guided birding trips, birding by canoe, daily walks at the world-famous Magee Marsh, American woodcock field trips, keynote presentations, a birder's marketplace, and evening socials with free food and music.
"The festival helps attract more than 90,000 birders to northwest Ohio from around the world, generating an annual economic impact of more than $40 million."
Her free, public talk is part of the Lake Erie Center's Public Lecture Series.
"I hope attendees will come away with a greater understanding of Black Swamp Bird Observatory's mission and what the Black Swamp Bird Observatory does for the region," Kaufman said. "The take-home message of my lecture is that it's in the best interest of every resident of northwest Ohio to support habitat conservation."
For more information on the lecture, go to utoledo.edu/nsm/lec or call the UT Lake Erie Center at their office at 419.530.8360.