Rockets rally late, fall in final seconds at George Washington, 73-69
---
Toledo nearly rallied from a seven-point deficit with 2:33 remaining, but came up just short in a 73-69 defeat at George Washington in the first round of the 2017 College Basketball Invitational.
Sophomore guard Jaelan Sanford topped the Rockets' attack with 25 points to go along with a team-high three assists and zero turnovers in 40 minutes. Senior forward Steve Taylor also scored in double figures for Toledo with 18 points.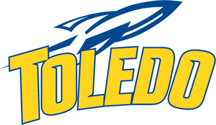 Senior forward Tyler Cavanaugh led George Washington with a game-high 29 points and tied for the team lead with seven boards. Freshman forward Patrick Steeves was the only other Colonial to score in double digits with 17 points.
Toledo (17-17) shot 50.9 percent from the field, including an efficient 61.5 mark in the second half, and 30.0 percent (6 of 20) from three-point range. The Colonials (20-14) registered a 49.1 shooting mark and were 9 of 24 (37.5 percent) from three-point range.
UT trailed the entire contest, but kept chipping away after falling behind by a 24-13 margin with 8:44 remaining in the first half. The Rockets trailed by a 35-29 margin at halftime and saw the Colonials extend their lead to 50-40 with just under six minutes into the second half.
Taylor's layup with 7:08 remaining cut UT's deficit to 61-58, but George Washington didn't allow the Rockets to get any closer until the final minute. Sophomore forward Nate Navigato's three free throws cut GWU's lead to 71-69 with 15.1 seconds left after he was fouled on a three-point shot. Toledo then forced a turnover when the Colonials were whistled for a five-second call trying to throw the ball inbounds.
On the ensuing possession, Navigato drove into traffic, but couldn't get a layup to fall. Cavanaugh then grabbed the rebound and hit two free throws to secure the win for the Colonials.