Increased security, efficiency prompts myUT upgrade
March 16, 2016 |
UToday
By Kathleen Walsh
---
The myUT homepage and portal will receive an upgrade Wednesday, March 16. Visitors will notice a cleaner look and a change in login procedures, but behind the scenes, the administrative team has done significant work to make the site more efficient and ensure that it delivers information and workplace tools securely.
Users will log in to a new page using their UTAD username and password. Authenticated visitors then can access tabs and personal content just as they were accustomed to doing in the previous version of the portal. The tabs, navigation and channels are still located in the same places.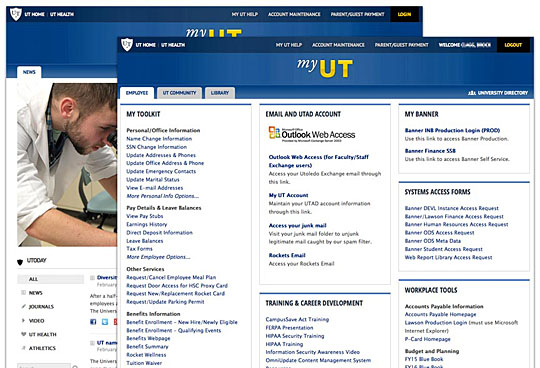 "One of our goals was to keep content and its delivered location in the same relative place within the portal. If you had access to the student and employee tab, you will still have this access after the upgrade. If you are an employee looking for your leave balance, it will be available in the same location you found it before," John Cavins, senior director of enterprise business systems in Information Technology, said.
The change in login procedure is part of a university-wide security enhancement that when completed will make signing in across multiple systems and applications a seamless process. Currently, the new single sign-on has been implemented into Blackboard, UT's learning management system, and Rocket email, the student email system.
The upgrade also has changed the way Information Systems manages the myUT portal, moving to an in-house management solution. Some tools featured in the previous portal management platform have better solutions, according to Cavins. Those that were obsolete or had low usage will no longer be available, including groups and building customized tabs.
Information Technology's enterprise business systems, information security and network services partnered with the Center for Creative Instruction and the University Marketing and Communications' Web development teams to build and deliver the new upgrade.
For more information about the myUT upgrade, contact the IT Help Desk at 419.530.2400, 419.383.2400 or ithelpdesk@utoledo.edu.