Jefferson Award nominations due March 19
March 18, 2013 |
UToday
By Kim Goodin
---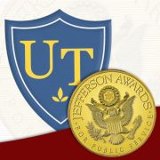 Three months into 2013, many in the UT community have followed their new year's resolutions to serve others. What better way to honor these commitments than recognition through UT's Jefferson Awards program for public service?
If you know an unsung hero who dedicates his or her time to community service, submit a nomination on UT's Facebook page or directly to UT's Jefferson Awards page at http://bit.ly/utjefferson.
Nominations for this month's honoree are due Tuesday, March 19.
This month's Jefferson Awards "Champion" could be someone you know — nominate today!
Click to access the login or register cheese