Lucas County poet laureate to give performance March 22
---
Race, disability and cultural identity will be in the spotlight for "Is Your Mama White? Excavating Hidden History" Friday, March 22.
Dr. Jim Ferris, UToledo professor and the Ability Center Endowed Chair in Disability Studies, will take the stage at 8 p.m. in the Center for Performing Arts Recital Hall.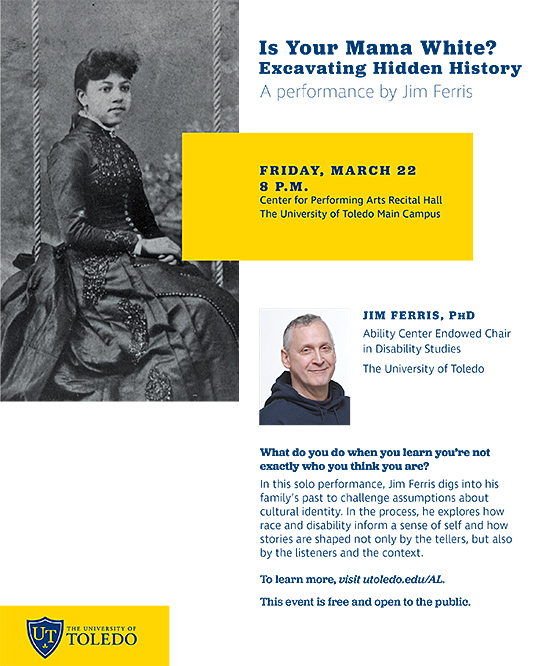 The Lucas County poet laureate's solo performance focuses on family history and starts with his grandfather.
"My grandfather's birth records list his race as black. In the 1910 census, he is listed as black," Ferris said. "But on the 1917 draft records for World War I, his race is listed as Ethiopian. And sometime in the 1920s, as the resurgent Ku Klux Klan was nearing the zenith of its remarkable power in Indiana, sometime in his 30s, he became white."
Decades later, Ferris was born on his grandfather's birthday.
"I was listed as white, a status I didn't think to question until long after grandpa had passed away," he said. "In my 20s, I remember a whispered, half-heard story about grandpa's first wife being black. But I also remember the suggestions that we were part Cherokee, though neither were things to speak of openly.
"There were other things best not spoken of too much, including that I was born crippled. Somewhere along the line, I became handicapped, disabled, a person with a disability," Ferris said.
Then his younger brother was born with Down syndrome.
"Suddenly, two of the six kids in the family, a full third of those rambunctious Ferris boys, were disabled," he said. "The presence of disability — particularly my brother's — profoundly affected my family. Not surprisingly, disability profoundly affected my own evolving sense of identity as well. "
Ferris will share this personal story and enlist audience members to help tell the tale.
"We will probe the crucial yet questionable role that narrative plays in the construction of identity and how story is essential to the person we know ourselves to be," he said.
For more information about the free, public performance, go to the College of Arts and Letters' website.