Self-love advocate/popular blogger to speak March 24
---
Healthy body self-love will be the topic of well-known blogger Jes Baker's talk Thursday, March 24, at 6 p.m. in Doermann Theater in University Hall.
Baker's program, "Change Your World, Not Your Body: The Social Impact of Healthy Self-Love," will look at the history behind the current ideal body type and how each person can change the way he or she perceives himself or herself and others.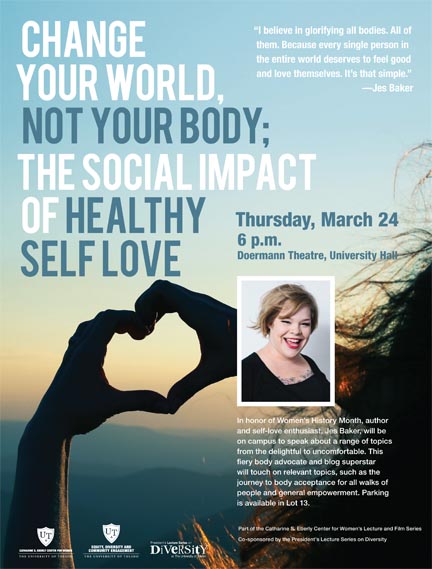 "Ms. Baker addresses not only how society sees body size, but how we internalize size in relation to what we think society wants," said Dr. Shanda Gore, associate vice president for equity, diversity and community engagement, and chief diversity officer. "She speaks frankly to this dimension of diversity in a way that many don't think about, including all the micro-aggressions and macro-aggressions that can go with it."
The program is part of the Catharine S. Eberly Center for Women's Lecture and Film Series, and it is co-sponsored by the President's Lecture Series on Diversity.
According to Jennifer Solanics, marketing and recruitment specialist for equity, diversity and community engagement, this particular presentation was chosen after the Eberly Center's staff saw a compilation of Baker's interviews.
"We saw a video and she was discussing her message of healthy self-love — how no matter what your body type, shape or size was, the first step in living a truly healthy life was by loving who you are. We felt that it was a very relevant topic for today's society, not only for the college campus, but for the entire community," Solanics said.
Baker is known most for her blog, The Militant Baker, and for her "Attractive and Fat" campaign, in which she combated Abercrombie & Fitch's exclusivity through photos meant to challenge the notion that beauty is restricted.
"This message goes beyond physical health, and taps into emotional and mental health. Loving yourself for who you are is something that is so important for every person," Solanics said.
Parking for the free, public event will be available in lot 13 north of the west parking garage.
For more information, contact Solanics at jennifer.solanics@utoledo.edu.