Diversity, cultural learning to be focus of annual international dinner
---
The International Students Association will hold its 41st annual international dinner this weekend.
The event will take place Saturday, March 25, from 6:30 to 10 p.m. in the Thompson Student Union Auditorium.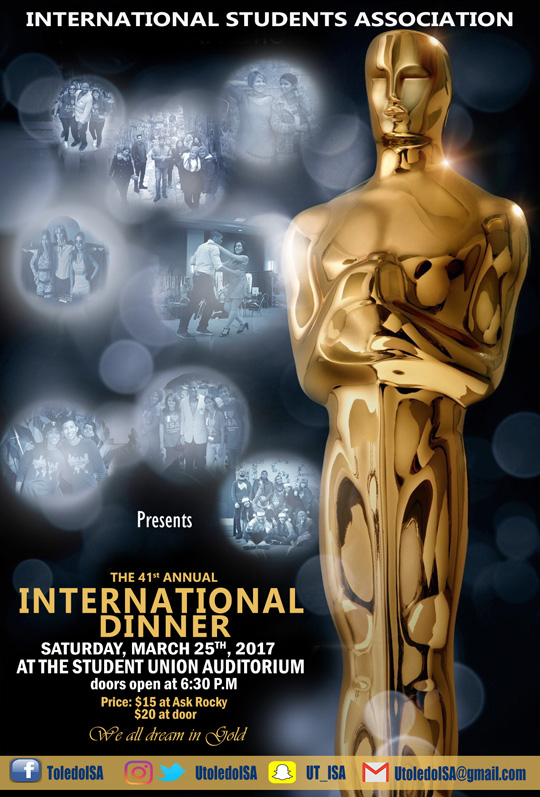 This year's theme is "The Oscars Edition," and formal attire is recommended for the dress code.
Dr. Sammy Spann, UT assistant provost for international studies and programs, and adviser to the International Students Association, will give an introduction speech, followed by Dr. Willie McKether, UT vice president for diversity and inclusion, and a representative from the Welcome Toledo Lucas County Initiative.
The dinner will include 13 different types of cuisine, performances from students, and will end with a fashion show where students from 29 countries will represent their countries by walking with their flag.
There also will be an award presentation for the International Students Association's 11 umbrella organizations.
"The dinner showcases and promotes the international culture at UT and for the past 40 years, the International Students Association has been conducting many cultural, educational and social programs and functions of interests to involve The University of Toledo and the community," said Aanchal Senapati, treasurer of the International Students Association.
Tickets can be purchased at Ask Rocky for $15 or at the door for $20.
Proceeds from the dinner will go to the Welcome Toledo Lucas County Initiative. This organization works to create a vibrant and welcoming community that celebrates migration and immigrant heritage as well as supports and enhances social and economic opportunities for all.
The international dinner is the International Students Association's biggest event and promotes diversity and cultural learning.
For more information, contact  utoledo@gmail.com.