Songfest to sport red, white and blue March 28
---
Songfest, The University of Toledo's second oldest tradition, shows its national pride with this year's theme "Star-Spangled Songfest 2015: A Tribute to American Music Icons" and chosen philanthropy, the Wounded Warrior Project.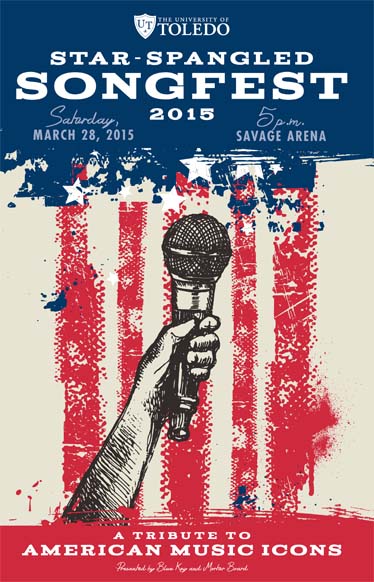 The philanthropic event will take place Saturday, March 28, at 5 p.m. in Savage Arena and feature a song and dance competition between 21 student organizations performing a blend of songs ranging from the 1920s to now.
"This is a completely free event, so everything we do goes to helping veterans and supporting our troops," Kyle Mauter, Songfest master of ceremony and Blue Key member, said.
For the competition, participating organizations are divided into three different divisions, co-ed, men and women. There will be nine different organizations participating in each the men and women divisions, and three different organizations participating in the co-ed division.
"Since the event is free, each participating organization set fundraising goals to help raise money to donate to our philanthropy," Nichole Herevia, Songfest mistress of ceremony and member of Motor Board National Honor Society, said. "Throughout the months leading up to Songfest, organizations raised money by hosting fundraisers or will ask friends and family to donate."
The Wounded Warrior Project is dedicated to raising awareness and to enlisting the public's aid for the needs of injured service members, while also helping injured servicemen and women aid and assist each other by providing unique, direct programs and services to meet veterans' needs.
"There are countless numbers of service members who have answered the call to serve our country that have returned home with visible and invisible wounds," Navy Reserve Lt. Haraz Ghanbari, UT military liaison, said. "The decision of Songfest organizers to support the Wounded Warrior Project is another indicator of how our University community values the service and sacrifice of our military personnel."
The Songfest committee, which consists of Blue Key and Motor Board National Honor Society members, is collaborating with the UT Military Service Center for the event.
"The military support on campus for this event has been extremely helpful," Mauter said. "They are providing a lot for the event; for instance, they are bring two Humvees to the event to be on display and for pictures."
T-shirts and a pre-order video of the event can be purchased for $10 in the Student Union from 10 a.m. to 2 p.m. this week and at the event. Proceeds from the sales will be donated to the Wounded Warrior Project after general costs.
Cash donations will be collected at the event, and online donations can be given at gofundme.com/songfestgivestowwp.
Additionally, materials will be collected at the event for care packages that will be sent to troops that are overseas. A list of accepted donations can be found on the Hero's in Action website here.
To keep up-to-date with Songfest, visit the Facebook page at facebook.com/ut.songfest or follow on twitter @utsongfest.
For more information on the event, contact Mauter and Herevia at utoledosongfest@gmail.com.