Growing UT student organization largest peer education program in country, serves as model
---
A program at The University of Toledo in which students promote healthy lifestyles and strong decision-making skills has grown in the last 12 years from 50 participants to more than 140 dedicated students in what is now the largest collegiate peer education team in the country.
The UT Student Wellness At Toledo (SWAT) Team is a group of student leaders who facilitate fun, dynamic, interactive educational programs on health and wellness. They are trained to serve as peer educators on campus; as a team, they focus on delivering interactive programs on issues that are critical to student success and college retention.
"Healthy students achieve better academic success and increased productivity, and have a more enjoyable college experience," said Darci Ault, UT assistant director of health promotion and leadership.
The SWAT Team is based out of Student Affairs and located in the Student Recreation Center.
"Best practices show that programs have a significant advantage when they are aligned with the student recreation centers on their campuses," Ault said. "By housing the program within the UT Student Recreation Center, student leaders are able to build upon the health and wellness of all students because of the nature of the facility and equipment available."
College peer education programs thrive in a health and wellness environment where they can reach people, motivate them toward behavior change, and impact lifestyle choices, Ault said. In addition, the UT SWAT Team takes many programs to residence halls and classrooms.
Ault was asked to deliver two presentations at the National Peer Education Conference in November in Washington, D.C., where the UT SWAT Team program was highlighted as a model for other universities that are looking to develop and expand their own specialized peer education plan.
"The UT SWAT Team model has been successful for several years, and other universities are benchmarking with us," she said.
The student leaders on the team have a wide variety of majors and exude high energy and willingness to give students a lift, Ault said.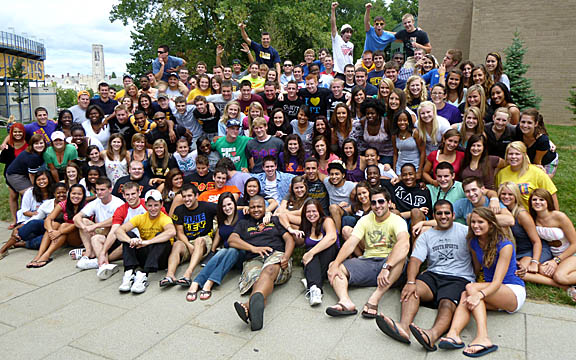 Some of the topics addressed by SWAT programs throughout the school year include "College: Learning to Juggle It All!" about time management, "Lighten Up!" that focuses on making smart food decisions, and "Between the Sheets," which addresses sexual health. All the peer education programs are designed to cover issues that affect student success and retention.
The trained student leaders hold a national certification from the BACCHUS & GAMMA Peer Education Network. They also receive academic credit for serving in leadership positions.
For more information on the UT SWAT Team, click here.