Legal issues affecting students focus of free event April 2
---
Everyone knows about the complexity of legal issues, but an upcoming event will provide crystal-clear information to college students about laws and legal issues that can directly affect their lives.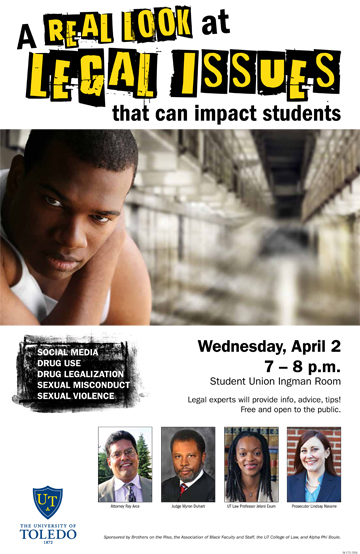 "A Real Look at Legal Issues That Can Impact Students," a free, public panel discussion, will be presented Wednesday, April 2, from 7 to 8 p.m. in the Student Union Ingman Room.
"We're covering three areas that students often don't think about from a legal standpoint: sexual misconduct and domestic violence, drug use and legalization, and social media," said Dr. Willie McKether, UT associate professor of anthropology and Brothers on the Rise adviser.
"These are all issues that can have real legal consequences for students, and can affect their lives for a long time. We've assembled a panel of experts from different parts of the local legal community. They've worked with young people, they know these issues — like how you can actually lose your job over what you say on social media — and they'll share that expertise with our students."
The collaborative event is sponsored by Brothers on the Rise, the Association of Black Faculty and Staff, the UT College of Law and Alpha Phi Boule, the last a community partner that was instrumental in securing a panel of legal professionals.
Students will get life-relevant legal information from four panelists: Ray Arce, an employment attorney with Marshall & Melhorn; Judge Myron Duhart of the Lucas County Common Pleas Court, who will moderate; Jelani Exum, associate professor in the UT College of Law; and Lindsay Navarre, assistant Lucas County prosecutor.
"Call this being legally proactive," said Dr. Anthony Quinn, UT associate professor of biological sciences and Brothers on the Rise adviser. "Students will learn a great deal of real-life information from these experts. There's nothing theoretical about what the panelists will share; it's the lowdown on what students need to know about these issues."
Students will have a chance to ask the panelists questions, and light refreshments will be available.