University to recognize International Disability Studies Day
---
The University of Toledo will celebrate International Disability Studies Day Wednesday, April 3.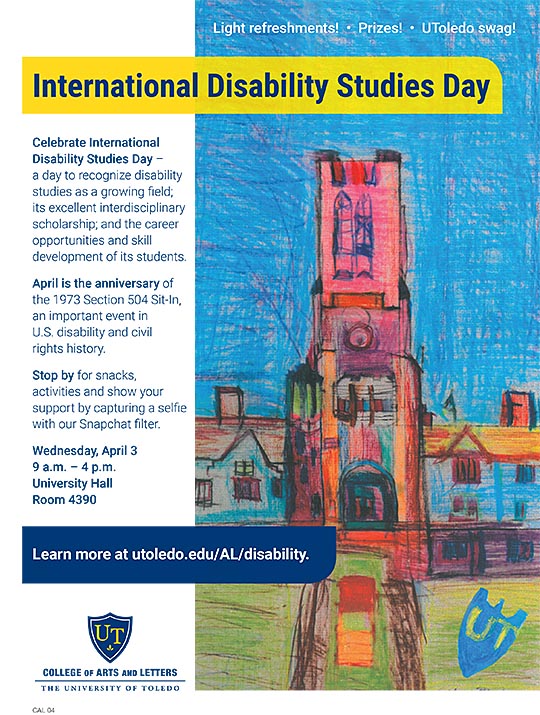 Campus and community members are invited to stop by the Department of Disability Studies in University Hall Room 4390 between 9 a.m. and 4 p.m.
"We are celebrating International Disability Studies Day — a day to recognize disability studies as a growing field; its excellent interdisciplinary scholarship; and the career opportunities and skill development of its students," said Dr. Kim Nielsen, professor and chair of disability studies.
The daylong event will spotlight the contributions and impact of disability studies. The University's program helps students and the community understand the full spectrum of human diversity.
"April is the anniversary of the 1973 Section 504 Sit-In, an important event in U.S. disability and civil rights history," Nielsen said.
Section 504 of the Rehabilitation Act states "no otherwise qualified handicapped individual in the United States shall solely on the basis of his handicap be excluded from the participation, be denied the benefits of, or be subjected to discrimination under any program or activity receiving federal financial assistance."
"We will have door prizes, decorations, a Snapchat filter, food, lots of people, and I'm hoping that some alums and current students studying away will Skype in for the event," Nielsen said.
Learn more on the Department of Disability Studies' website.