Ohio Humanities assistant director to speak at faculty grant writing workshop
April 4, 2016 |
UToday
By Ashley Gearheart
---
This year, the Office of Research and Sponsored Programs has sponsored five faculty grant writing workshops, the fourth of which will be held Friday, April 8, from 9 to 11 a.m. in Student Union Room 2591.
The fourth workshop will focus on communication, art and the humanities, and will feature a special guest speaker: Dr. David J. Merkowitz, assistant director of Ohio Humanities.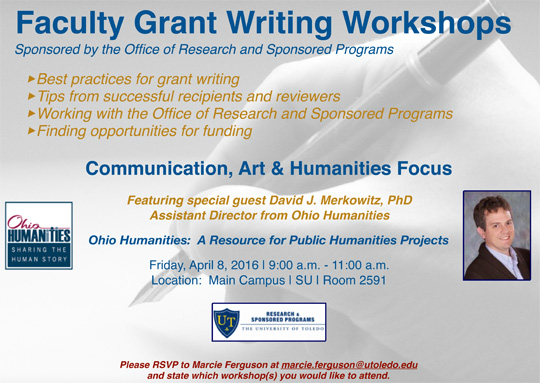 Merkowitz will give a presentation titled "Ohio Humanities: A Resource for Public Humanities Projects" and share resources for public humanities projects with attendees.
Each workshop is designed to help faculty find opportunities for external funding, successfully work with the Office of Research and Sponsored Programs, and follow the best practices for writing grants. Workshops also include tips from successful grant recipients and reviewers.
"We want to work with faculty to help them develop as scientists and scholars. Research funding is difficult to obtain, and our faculty have to be ready to compete for limited resources," said Dr. William Messer, vice president for research.
The final workshop will focus on Small Business Innovation Research and the Small Business Technology Transfer programs and will be held Friday, May 13, from 9 to 11 a.m. in the Nitschke Technology and Commercialization Complex Brady Engineering Innovation Center.
For more information or to RSVP, contact Marcie Ferguson at marcie.ferguson@utoledo.edu.